'The Sitter' Green-Band Trailer – Now With 100% Fewer Orgasms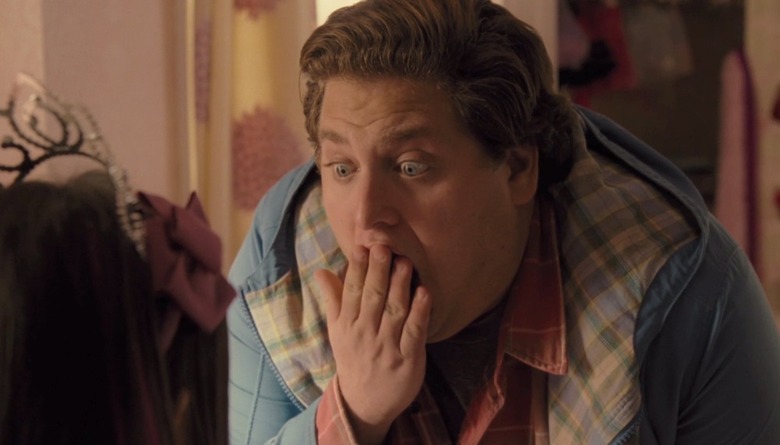 A few days ago, we posted a red-band trailer for David Gordon Green's The Sitter, and several of you complained about the very NSFW audio that opens the trailer. I'm not sure why so many of you are watching movie trailers with the volume turned all the way up in your offices and classrooms — do your bosses really not care if you watch trailers all day as long as they're SFW? If so, lucky you — but rest assured that you can crank this new green-band version up at top volume without risking the wrath of your superiors and colleagues.
Starring Jonah Hill, the "Adventures in Babysitting meets Superbad" comedy follows a lazy young man who gets roped into babysitting for a family friend. Naturally, one thing leads to another, and our feckless hero and his young charges find themselves on a wild ride that includes psychotic drug dealers (Sam Rockwell and J.B. Smoove), a sexy and willing young woman (Ari Graynor), at least one crazy car chase, and some punches in the face. Watch the trailer after the jump.
[via Yahoo!]
Personally, I was a bigger fan of the red-band trailer. Not because I demand raunch and profanity in my movie previews, but because the new one has less Graynor and Rockwell — two of the highlights from the other trailer. Still, my curiosity is piqued. Our own Peter Sciretta read an early draft of the screenplay and called it "pretty great," and screenwriters Brian Gatewood and Alessandro Tanaka previously landed themselves on the Black List for a college comedy script titled Who the Hell is Sanjay Patel. Director Green may have started out doing more serious indie fare such as George Washington, All the Real Girls, and Snow Angels, but over the past few years he's shown an affinity for drug-themed, R-rated comedies like Pineapple Express and Your Highness. I confess I haven't seen the latter, but I enjoyed the former quite a bit.
Also starring Kevin Hernandez, Landry Bender, and Where the Wild Things Are star Max Records, The Sitter hits theaters December 9, 2011.
Discuss: How do you think the green-band trailer stacks up against the red-band version?