Possible Casting: 'Playboy Club' Star Naturi Naughton In 'The Wolverine', Kevin James In Charlie Kaufman's 'Frank Or Francis'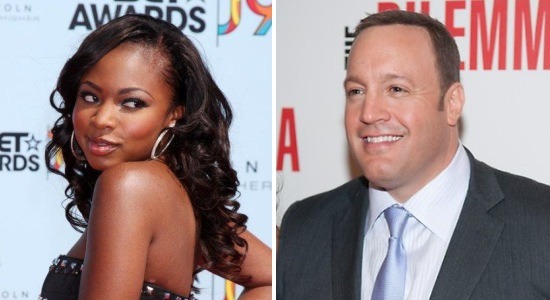 A couple of bits of interesting but as-yet-unconfirmed casting news have cropped up this weekend. One concerns Naturi Naughton, star of NBC's upcoming series The Playboy Club, who may be joining forces with Hugh Jackman in The Wolverine; the other, frequent Adam Sandler collaborator Kevin James, who could be working with director Charlie Kaufman in Frank or Francis. More details on both projects after the jump.
Naughton is best known for being one-third of R&B group 3LW, but has recently been branching out into acting. In the last few years, she's had starring roles in Notorious (playing real-life rapper Lil' Kim), Fame, and Lottery Ticket; recently, she had a small part in the last season of Mad Men as (minor spoiler) a Playboy Bunny dating Lane Pryce (Jared Harris). As mentioned previously, she'll be playing another Playboy Bunny in another '60s-set TV series when she stars as Brenda in The Playboy Club, which premieres this fall.
The reason I'm taking the alleged Wolverine news with a huge grain of salt for now is that it's difficult to tell where the information is coming from. It looks like Shadow and Act was the first to break the news, but they don't reveal their source. We'll keep you posted if we get further confirmation on the story; for now, it's best to just consider it a rumor.
Much stranger and, in my opinion, more intriguing is the rumored casting of James in Frank or Francis, the second directorial effort by Synecdoche, New York helmer Kaufman. Jack Black, Nicolas Cage, and Steve Carell are already attached to star in the film, which follows the feud between a Hollywood director (Frank) and a critical blogger (Francis).
The Playlist recently got their hands on the script, and according to them, it includes a role written especially for James. James would play Kevin James, a fictionalized version of himself who stars in the film-within-a-film Obese City and goes on to present at the Academy Awards. Perhaps James could take some tips from John Malkovich, who played himself to wonderful effect in the Kaufman-penned Being John Malkovich.
The catch here is that we haven't actually heard anything about James being cast in Frank or Francis. All we know is that he was originally written into the script. At this point, it's still very possible the character could be rewritten for a different actor. If James does sign on, though, it'd be an exciting and unexpected move by an actor generally known for critically reviled lowbrow comedies like Paul Blart: Mall Cop and The Zookeeper. I, for one, am hoping it'll happen — it's always interesting to see an established actor trying something completely different, and he'll be in good hands with Kaufman.