New Look: Rihanna In 'Battleship'
There was a pretty stark divide between those who loved the trailer for Peter Berg's 'navy vs aliens' film Battleship, and those who thought it was complete dreck. It isn't difficult to understand that split: the trailer briefly introduces a few characters including Taylor Kitsch as a brash young officer under the command of Liam Neeson as he courts his superior's daughter, played by Brooklyn Decker. It then launches into a condensed sequence from the film, with giant alien ships, a whole lot of digital effects and even the signature pegs that have been part of the tabletop Battleship game since its inception. The film is a massively-budgeted ode to action, and one that doesn't seem interested in courting an action-averse audience. Fair enough.
What it didn't show was Rihanna, who makes her acting debut in the film. If you're curious how the singer looks on the deck of a boat with a giant weapon at the ready, hit the jump.
Click to enlarge: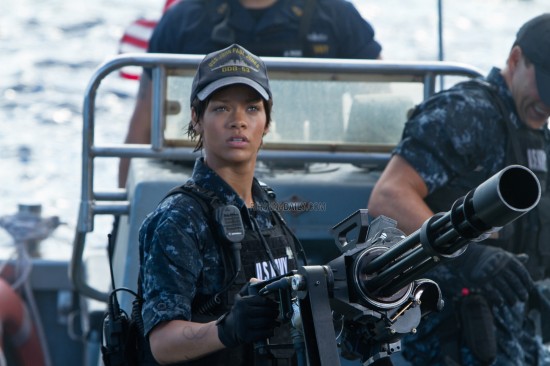 Peter Berg directed Taylor Kitsch, Alexander Skarsgard, Liam Neeson, Brooklyn Decker, Rihanna, Josh Pence, Jesse Plemons and Peter MacNicol in the film. Battleship opens May 18th, 2012.
Peter Berg (Hancock) produces and directs Battleship, an epic action-adventure that unfolds across the seas, in the skies and over land as our planet fights for survival against a superior force. Based on Hasbro's classic naval combat game, Battleship stars Taylor Kitsch as Lt. Alex Hopper, a Naval officer assigned to the USS John Paul Jones; Brooklyn Decker as Sam Shane, a physical therapist and Hopper's fiancée; Alexander Skarsgård as Hopper's older brother, Stone, Commanding Officer of the USS Sampson; Rihanna as Petty Officer Raikes, Hopper's crewmate and a weapons specialist on the USS John Paul Jones; and international superstar Liam Neeson as Hopper and Stone's superior (and Sam's father), Admiral Shane.
[RihannaDaily via The Playlist]