Superhero Bits: Catwoman, Superman, Spider-Man, Nick Fury, Stan Lee, William Shatner, Baking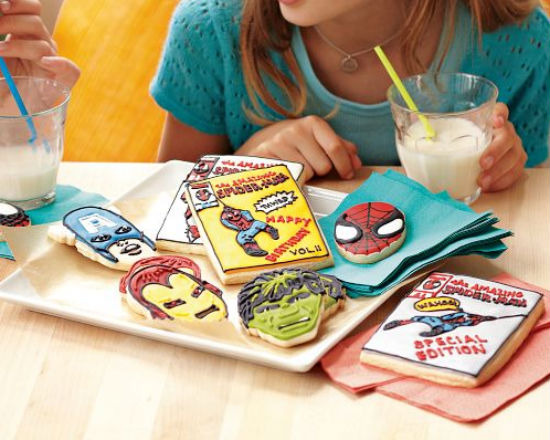 Want more clues to The Dark Knight Rises Catwoman puzzle? What sexual favor did Hayley Atwell jokingly perform on the set of Captain America: The First Avenger? How can you work a little Marvel into your food preparation? Is there a Batman connection in Man of Steel? Would you like to read quotes from Samuel L. Jackson and Andrew Garfield about their new movies, The Avengers and The Amazing Spider-Man? Read about all of this and much more in today's Superhero Bits.
[No photo]
By now you've all seen the official image of Anne Hathaway as Selina Kyle in The Dark Knight Rises. And while speculation has run rampant that it might not be her full costume, here's a clue that backs up that argument. Above is one of Hathaway's stand-ins holding some sort of cat mask. Very curious, don't you think? Thanks to EyePrime (via Movieweb). There's much more Batman below.
That Catwoman makes also an appearance over on Geeks of Doom who took at look at the new image of Selina Kyle and gone into detail with analysis. Head over there to read their thoughts on all of it.
And, Batman News has this nugget in their announcement of Catwoman. Very interesting:
Anne Hathaway can be seen wearing some high-tech glasses, but I'm told that she will be wearing a cowl/mask at some point in the movie.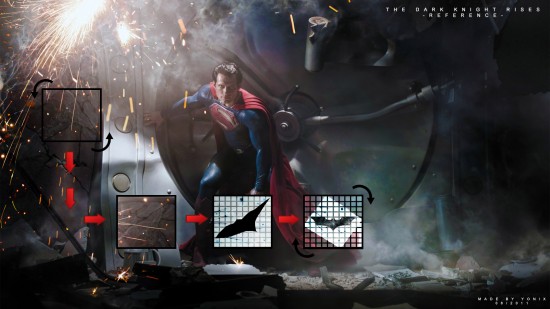 We've all seen the above image from Man of Steel as of now but, /Film reader Remco J. thinks he sees something else in it. Look at his above illustration for what he believes is a reference to The Dark Knight Rises. It's a stretch, for sure, but anything is possible and it could be a reason why Superman is so small in this image.
Samuel L. Jackson was talking to the BBC (via Superhero Hype) about The Avengers and what he had to say was actually pretty cool, for him at least:
I'm actually doing more than I've done in any of the other films. You don't have to wait until the end of the movie to see me. I'm actually around the whole movie and I do a lot more. I have action scenes and I actually do things to people in this movie.
Nick Fury continues:
We're all really good friends. It's kind of funny to stand around in a room and see everybody. Thor is standing there in his costume. Captain America. Sometime's he's dressed and sometimes he's not. Scarlett [Johansson] is there as Black Widow. Robert Downey is there. He very seldom has his Iron Man costume on when he's just hanging around with his buds. It's just amazing to look around the room and see all of those guys there and go, 'Okay. This is cool.'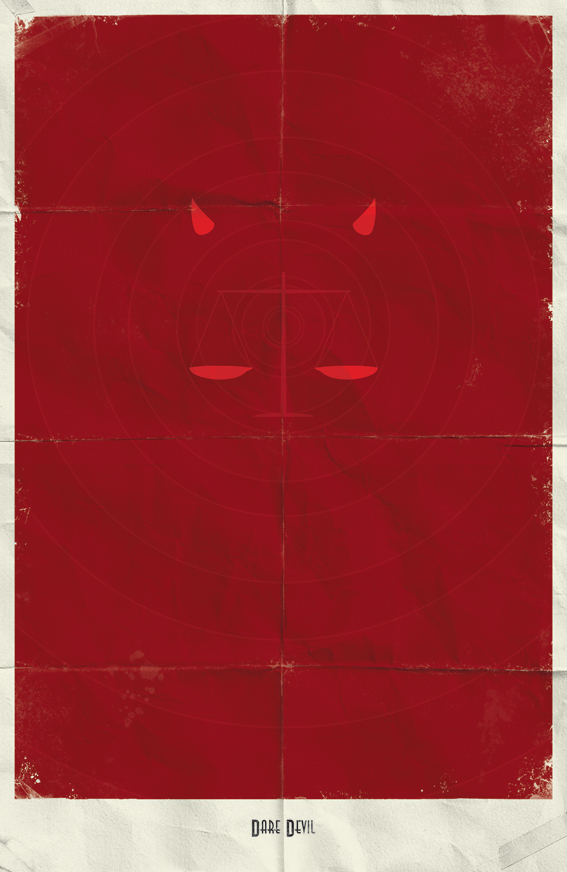 Artist Marko Manev has created a very cool series of Marvel inspired minimalist posters. That's obviously Daredevil above. But over on Geek Tyrant (via the Behance Network) he's got a ton more, both of The Avengers, and other Marvel characters like Spidey, Wolverine and the Fantastic Four.
In an interview with Nylon Magazine (via Comic Book Movie) the beautiful Hayley Atwell spoke about some very sexual joking on the set of Captain America: The First Avenger? All I can say is: we're waiting, Dominic:
We got up to a lot of mischief on set. There was a lot of waiting around, so he'd get out his iPhone and make videos of the characters when they think they're not being watched. Like [my character] Peggy Carter giving Captain America a blow job in the cock pit of the plane. I spoke to Dominic yesterday and he threatened to put the video on YouTube once the movie comes out.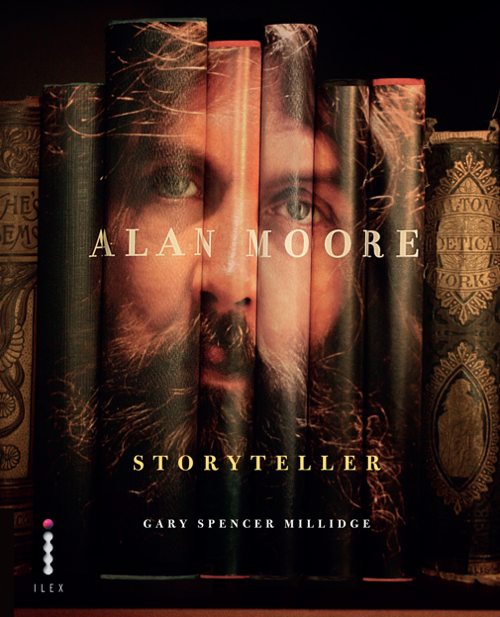 This is the cover of Alan Moore Storyteller (obviously), a new book that spans the career of one of the most revered and mysterious comic book writers of all time, Alan Moore, creator of The League of Extraordinary Gentleman, V for Vendetta and, of course, Watchmen. Thanks to Boing Boing for the heads up.
What Culture wildly speculated over actors who could play Doctor Strange in the currently-in-development project and now their wishlist of directors is equally as ambitious. Tim Burton? Guillermo Del Toro? Still, they make compelling arguments.
Due to the amount of graphics and images included in Superhero Bits, we have to split this post over THREE pages. Click the link above to continue to the second page of Superhero Bits.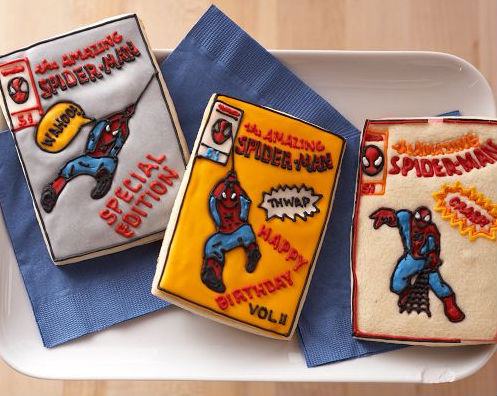 Williams-Sonoma is known for high end cooking stuff and now they're going Marvel. They're released several types of bakeware – cookie cutters, cake pans and more. Head over to their site to order, but thanks to Forever Geek.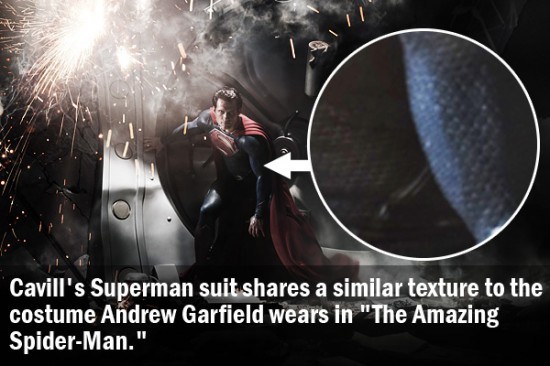 Here's some more discussion of the Man of Steel outfit. Just as I said in our post yesterday, it has a very scaly look. Head over to MTV Splash Page for even more detailed analysis.
In addition to Supes above, with the new Catwoman suit also just revealed, MTV Splash Page has offered up their analysis on that as well. Click the link to get comments like this:
While there might not be cat ears, the costume does make use of goggles, like most recent depictions of the character. Catwoman goggles it up in both the regular DC comic books as well as in her appearances in video games like "Batman: Arkham Asylum" and "Mortal Kombat vs. DC Universe".
In the past week or so we've seen a ton of photos from this Dark Knight Rises City Hall location Pittsburgh. We've seen Bane fighting Batman, we've seen Catwoman driving down the stairs and now, Comic Book Movie has compiled a whole bunch of additional photos, videos and more basically laying out the entire scene. I'm not going to spoil it here, instead I've just posted the above video as a tease and – if you want more spoiled – including photos of extras, Bruce's Lamborghini, a Gotham football jersey and much more, head over to CBM.
[No photo]
Even with saying that above, I couldn't help but run this awesome photo of The Dark Knight being shot by his cinematographer Wally Pfister. This link to MovieWeb (Via Eyeprime) has even MORE Dark Knight Rises set photos. Less spoilerly than the ones linked above.
When Batman is in town, things get real. The Hollywood Reporter says that Pittsburgh 911 operators were on high alert recently to expect emergency calls when The Dark Knight Rises shot a bunch of gun fight scenes.
Here's a fan trailer for Superman Returns called Superman Restored, which incorporates some of the new footage that has recently made it online from the deleted opening and more. It lacks the pacing of a real Hollywood trailer, but looks great. Thanks to ITHoTMKProductions for the work.
Due to the amount of graphics and images included in Superhero Bits, we have to split this post over THREE pages. Click the link above to continue to the third page of Superhero Bits.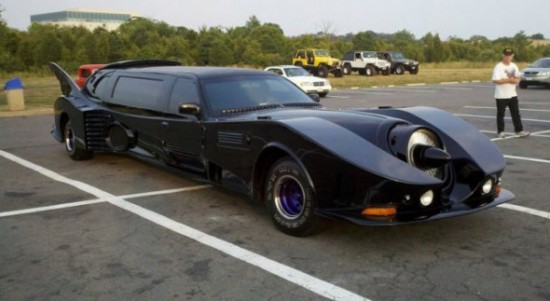 How'd you like to go to the prom in this ride? Thanks to The Clearly Dope (via Nerd Approved) for the image.
Quint over on Ain't It Cool News has a great interview with Andrew Garfield at Comic-Con in which he talks about the responsibility of playing The Amazing Spider-Man, some new twists on the personality in this movie and more. It's a great read. Here's a snippet from Garfield:
I realized just how much responsibility I was taking on for you, for your buddies, for everyone who's going to be in Hall H today and for me, the 7 year old inside of me. It's a lot of pressure, but it's the same kind of pressure Peter Parker feels. He feels the weight of the city on his shoulders. He knows he's the only one with the power that's able to really fully protect these people. He feels like he's their father, ultimately.
Star Trek and DC Comics rarely get mentioned in the same breath, but Alexander The Great was ahead of its time. The failed 1964 TV pilot starred Captain Kirk and Batman, William Shatner and Adam West, and you can see a clip above thanks to the Hero Complex. Talk about good casting on bad TV.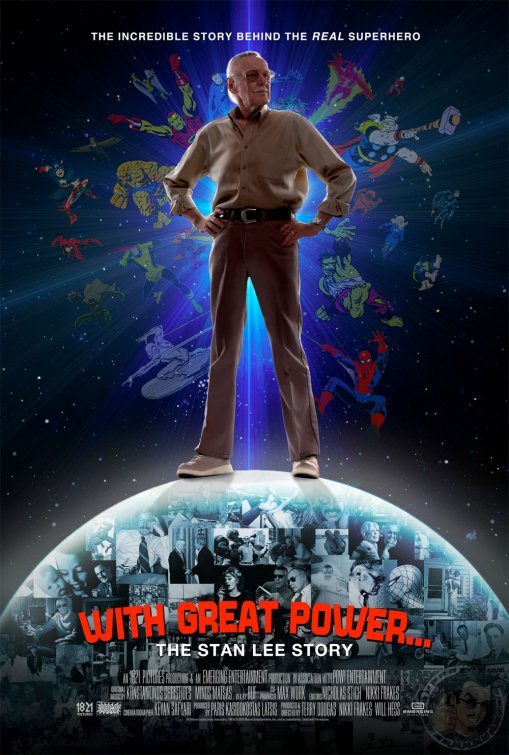 Here's the poster for With Great Power: The Stan Lee Story, an upcoming documentary. Thanks to IMP Posters.
Get More: Movie Trailers, Movies Blog
Believe it or not, Patrick Stewart has yet to see X-Men First Class but, according to this interview with MTV, he holds no grudges with the new version of himself, James McAvoy.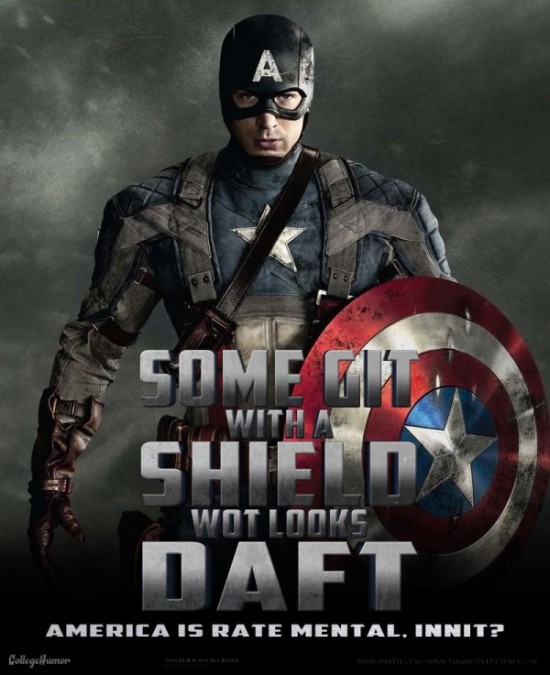 College Humor has a funny gallery of Captain America: The First Avenger posters from around the world. Above is Britain. Head over there for Germany, Canada, etc.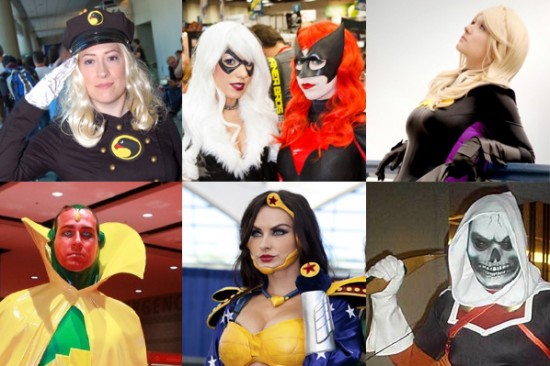 Gamma Squad has a brand new update to their Flickr account of cosplay photos. That's a preview above, head there for much more.