'Mad Men' Might Be To Blame For Frank Darabont's Departure From 'The Walking Dead'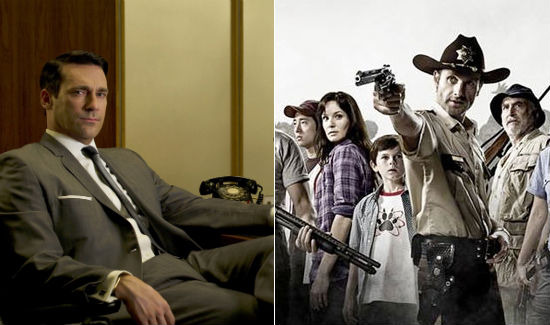 Audiences have called Don Draper many things: genius, alcoholic, womanizer, and one of the best characters on TV. One thing the main character of Mad Men has never been called though is a zombie killer, but that might be more true than not. According to an article in the Los Angeles Times, the new $10 million-per-season contact AMC has signed with Mad Men creator Matthew Weiner could be the reason why Frank Darabont left one of AMC's other hit shows, The Walking Dead. The article says AMC is spending so much on Mad Men they've been forced to make cuts on other shows, such as $250,000 per episode from the second season of The Walking Dead. Breaking Bad is also feeling the results. Read more after the jump.
The Los Angeles Times article couldn't get AMC or Darabont to officially comment on the accusations but build a pretty strong case none the less.Breaking Bad for example. AMC doesn't own Breaking Bad. Sony does, so when AMC recently approached them with a much more economical, shorter season order for next year, Sony was so offended they threatened to move the show from the network. FX was reportedly very interested. However, it seems that now the two sides will reach a deal.
AMC does own The Walking Dead though, so when they said there were cutting a quarter million dollars out of each episode for this upcoming season, there was nothing anyone could do. Which is probably why Darabont, who had just been at Comic-Con to promote the show, walked. (Remember that Darabont had spoken earlier this year about budget concerns.)
Though the president of AMC, Charlie Collier, refused to discuss specifics about those two shows, he denied that Mad Men's increase in cost had any effect on other shows:
We're investing more than we ever have before. The fact that future seasons of 'Mad Men' were going to be expensive is not a surprise to us. We've taken some of the most expensive, riskiest shows around and nurtured them and managed to grow our network.
Still, when you pay one show runner $10 million per year then cut from two other shows, actions seem to speak louder than words.
What do you think? Mad Men wins a ton of awards and is the network's centerpiece but, in recent years, Breaking Bad has kind of eclipsed it. And Walking Dead certainly has that potential. Do you think the trade off make sense?