First Look: Henry Cavill As Superman In 'Man Of Steel'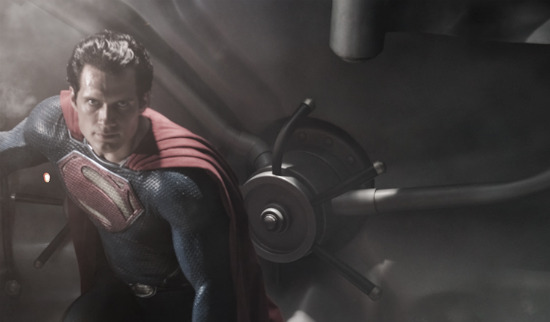 With all the unofficial set photos that have been popping online from the sets of The Dark Knight Rises and Zack Snyder's Man of Steel, Warner Bros. has jumped the gun and provided our very first, official, look at Henry Cavill as Superman in the June 14, 2013 film. Check out the full, high-resolution version, after the jump.
Thanks to Warner Bros. for the full image. Click on it for the hi-res version.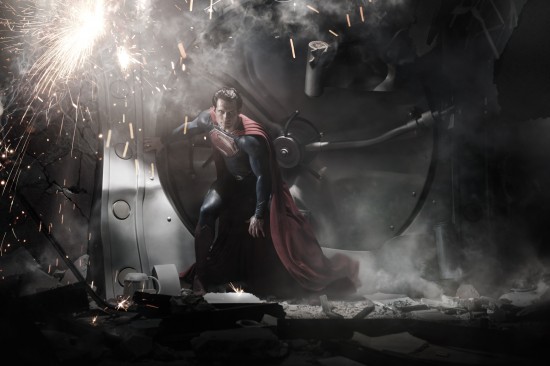 So much to say about this image. First, I applaud Warner Bros. for getting ahead of the game and releasing a clear, crisp look at their brand new hero before someone snaps a photo with their cell phone while the film shoots in Illinois. That's something that's burned Christopher Nolan and his team in Pittsburgh on The Dark Knight Rises so, it seems Zack Snyder and crew are learning.
Then there's the photo itself. Instead of just going with your traditional, straight up hero shot, we've got Superman in a much darker, forboding envirnoment then we're used to. Choosing this image, Superman protecting a smokey safe, as our first official look at the film says a lot about what Snyder is going for here. What does it say exactly? That'll I'll leave to you all to discuss.
Superman's hair is definitely on the table for discussion as well. We saw yesterday in these photos that Cavill can certainly rock the trademark curl but this photo makes him look more like an '80s Wall Street trader. Maybe the hair changes over the course of the film?
Finally, there's the suit itself. A far cry from Christopher Reeves' or even Brandon Routh's duds, Cavill's costume seems to have an almost living, Spider-Man quality about it. Blow up the image and look at the textures. Is it a departure? Yes. But the almost reptile consistency of it makes perfect sense when you realize these are clothes from another planet.
Those are my thoughts. What are yours? Leave them below. Here's the official press release, which is basically just a cast list.
Warner Bros. Pictures and Legendary Pictures have provided the first look at the new "Man of Steel," revealing star Henry Cavill as Superman in the film from director Zack Snyder.
The film also stars three-time Oscar® nominee Amy Adams ("The Fighter") as Daily Planet journalist Lois Lane, and Oscar® nominee Laurence Fishburne ("What's Love Got to Do with It") as her editor-in-chief, Perry White.  Starring as Clark Kent's adoptive parents, Martha and Jonathan Kent, are Oscar® nominee Diane Lane ("Unfaithful") and Academy Award® winner Kevin Costner ("Dances with Wolves").
Squaring off against the superhero are two other surviving Kryptonians, the villainous General Zod, played by Oscar® nominee Michael Shannon ("Revolutionary Road"), and Faora, Zod's evil partner, played by Antje Traue.  Also from Superman's native Krypton are Lara Lor-Van, Superman's mother, played by Julia Ormond, and Superman's father, Jor-El, portrayed by Academy Award® winner Russell Crowe ("Gladiator").
Rounding out the cast are Harry Lennix as U.S. military man General Swanwick, as well as Christopher Meloni as Colonel Hardy.
"Man of Steel" is being produced by Charles Roven, Emma Thomas, Christopher Nolan and Deborah Snyder.  The screenplay was written by David S. Goyer, from a story by Goyer and Nolan, based upon Superman characters created by Jerry Siegel & Joe Shuster and published by DC Comics.  Thomas Tull and Lloyd Phillips are serving as executive producers.