Benjamin Walker To Play The Archangel Michael In 'Paradise Lost'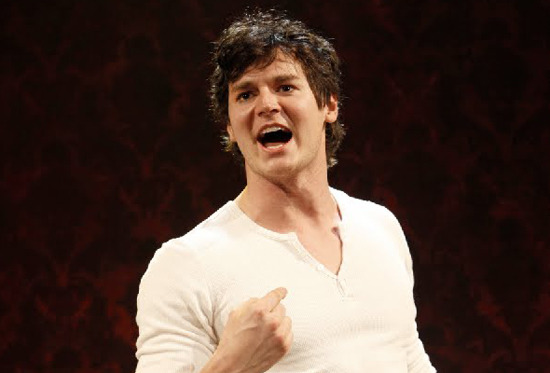 Benjamin Walker, the star of rock musical Bloody Bloody Andrew Jackson, walked away from playing Beast in X-Men: First Class, only to end up in the title role of Timur Bekmambetov's Abraham Lincoln: Vampire Hunter. Now he is finishing a deal to appear in another big movie that will revamp an old tale. Only this time, the tale is much older and the scope is infinitely more broad: the actor will be the Archangel Michael in Alex Proyas' Paradise Lost, which already stars Bradley Cooper as Lucifer.
The film will recount Milton's take on the break between the Angel Lucifer and his heavenly brothers in high-action style — think 300 plus Lord of the Rings, in 3D — with great battles in which armies of winged warriors clash. Refer back to our Comic Con coverage of the film for concept images of those battles.
Byron Willinger and Philip de Blasi wrote the original draft of the film years ago; Stuart Hazeldine and Lawrence Kasdan both did passes, and Ryan Condal's recent version is what powers the project now.
Alex Proyas told Deadline that there are three major setpiece battles in the film, taking place in Heaven, Hell and Eden. He added,
It's not just armies battling in an epic war. This is an adventure about the origins of good and evil after Lucifer's rebellion gets him cast out of Heaven and leads to a struggle with his brother archangel over the soul of mankind, starting with Adam and Eve. That is the scope of the narrative here, and we've tried to say as faithful as possible to Milton's text, particularly its focus on Lucifer's evolution and the birth of evil. It's a family saga, about a group of brothers, two in particular, who are on divergent paths, and Lucifer's feelings of betrayal by his father and family that forge his descent into evil.
The director offers enthusiastic words for his two stars:
I think there's a wonderful duality about Ben's persona, this combination of great strength and perfect innocence that works so well for Michael. And Bradley is the most charming guy you'll ever meet, with this extraordinary charisma. Lucifer was the brightest and smartest of the archangels, and even as he descended into evil and evolved into Satan, he's not just some black-and-white villain. Bradley brings extraordinary depth to that journey.
Paradise Lost is scheduled to shoot in January in Sydney, Australia. Expect a late 2013 release.