'Sarah Palin – You Betcha!' Teaser; The Other Sarah Palin Doc Goes To Toronto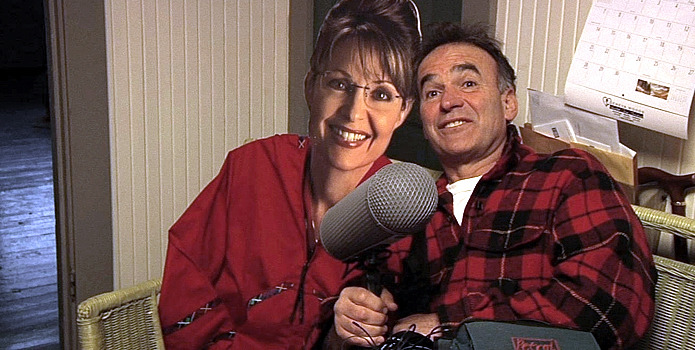 British documentarian Nick Broomfield has been on the film scene for years, and has made a few notable contributions such as the Spalding Gray movie Monster in a Box. But since the 1998 film Kurt and Courtney his documentary exposés have been characterized by sensationalism more than anything else. It's as if the emerging influence of Michael Moore took root and helped mutate his style in just the wrong direction.
His latest film is Sarah Palin – You Betcha!, which is now scheduled to play as part of the Toronto International Film Festival documentary program. A teaser — really just a clip from the film — is now available, and you can see the Michael Moore influence in glowing neon.
Yes, there is another Sarah Palin documentary, the 'official' film called The Undefeated, which hit a few screens last month. That's the whitewashed, smiling endorsement of all things Palin; this is meant to be an effective counter-point. But I honestly don't expect it to be any more valuable. Granted, Nick Broomfield was given access to some of Palin's family and so there might be some useful observations in the film. But based on this clip, which is just attention-getting silliness, I'm not holding out a lot of hope.
Content Films has most of the foreign rights to the film, while Channel 4 has the UK rights. Cassian Elwes is selling US rights, but there is no distributor on board just yet. Depending on how the film plays at TIFF, that may or may not change very quickly.