Fandom Trailers: 'My Other Me' And 'Toy Masters,' Documentaries About Cosplayers And He-Man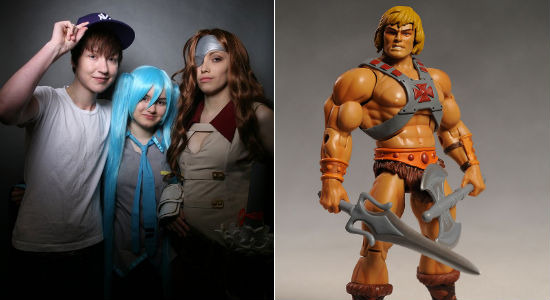 Documentaries have the rare ability to make someone who knows nothing about a subject an immediate fan. Who hasn't wanted to play Donkey Kong after watching The King of Kong or save the environment after seeing An Inconvenient Truth? But sometimes there are documentaries that hit a little closer to home and those can be even more special. Trailers for two in-production documentaries have come to light that focus on very small niches of fandom and, chances are, you're familiar with one of these subjects, if not both.
There's My Other Me by Josh Laner which is about cosplay and Toy Masters by Urban Archipelago Films which chronicles the controversial history of He-Man. Watch the trailers and find out where you can learn more these still-in-production films after the jump.
First up, here's the trailer for My Other Me: A Film About Cosplayers, which we found thanks to Laughing Squid.
I've never been one to cosplay but when I go to a convention, I'm constantly amazed by some of the amazing costumes you see and you get a great sense of it from this trailer. The Ganons from The Legend of Zelda, the Cloud from Final Fantasy hair that kid was working on, it's all so incredibly detailed.
The film is still in production and you can contribute via its Indie Go Go page right here.
Next is Toy Masters: How He-Man & Mattel Conquered the Universe, which we found thanks to Twitchfilm.
As a kid, I was a huge He-Man fan and had all the toys so watching this trailer, it was fascinating to see that there was a behind the scenes rivalry/struggle over who really created the characters, not to mention how Mattel attempted to manipulate the cartoon to sell more toys. What's even crazier about this is He-Man still, to this day, is one of the most popular toy collections. This is a film I'll definitely be keeping an eye on and you can too by visiting the official site.