'The Darkest Hour' Trailer And More Concept Art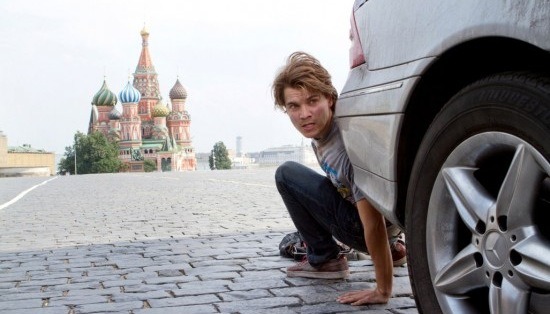 We've already gotten a couple of glimpses at The Darkest Hour, but concept art and one unremarkable photo can only tell us so much. It doesn't matter how nifty the concept art looks if the ideas fall apart in translation, and that image (above) of star Emile Hirsch cowering behind a car could be from any film set in Moscow. So I'm happy to get our first really good look of what to expect from Chris Gorak's Timur Bekmambetov-produced alien invasion film, in the form of a trailer. Check it out after the jump, along with a couple new pieces of concept art.
[via Coming Soon]
I'm assuming this is the same trailer that Devindra saw at Comic-Con. Afterward, his reaction was: "It remains to be seen just how unique the film itself will be, but... I can tell you it will at least look cool." I concur. I'm not totally convinced that The Darkest Hour will be anything extra-special overall, but Gorak, who previously art-directed Fight Club and Minority Report, seems to have an eye for striking visuals. And it's really fun watching people get completely vaporized by the aliens' electric power.
We also have two new pieces of concept art for you, to go along with some of the images we've already shown you. Since we just watched the trailer, we already have a fair idea of how these ideas will actually come across in the finished product, but it's still interesting to see what they were going for.
[via First Showing]
The Darkest Hour will open in 3-D December 23, 2011.