Superhero Bits: The Dark Knight Rises, Batman: Arkham City, Spider-Man, Green Lantern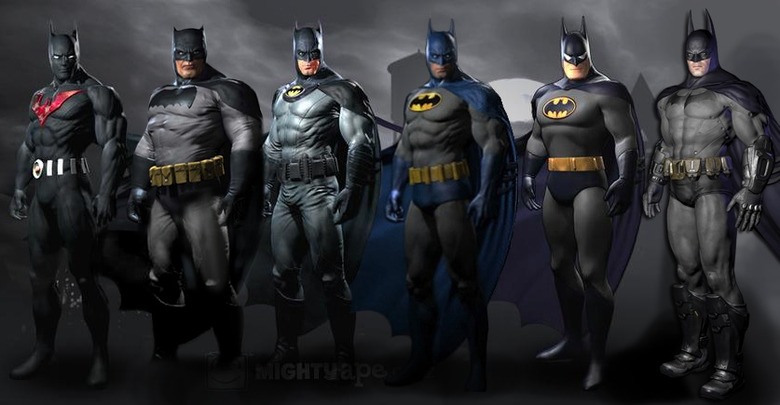 What would Tim Gunn think of Green Lantern's costume? Can The Amazing Spider-Man trailer be duplicated in a video game? Would you like to see one of the new musical numbers from Spider-Man: Turn Off The Dark? What's up with all the Batman's above? Want to see your first look at Joseph Gordon-Levitt in The Dark Knight Rises? How about some quotes from Tom Hardy and Anne Hathaway? Curious what the new, non-Peter Parker Spider-Man looks like in the comic books? Read about all of this and more in today's Superhero Bits.
What does fashion guru Tim Gunn think about the outfits in Green Lantern? Nerd Bastards has uncovered the answer in the form of two YouTube videos. The first one is above, the second part is at their link.
Total Film spoke to Tom Hardy about what it was like to not only be cast as Bane, but what it's like to play the character too. Here's the first quote about Nolan calling him.
Hang on a minute. You're asking me to come round the world with you in a Batman movie, playing a villain, and the only downside to it is I have to wear a mask? Hmmm, let me think. I'll get back to you... No, I'm f***ing there, man! Anything you need.
And here's what he said if he plays Bane as "The Man Who Broke the Bat?"
Mmmmm... Good lead-in, but all I can say is that Chris has a plan up his sleeve that's not at all disappointing. And that is a definite choice that's watertight in every respect. I think Bane's f***ing cool so I'm really excited to play him. It's not the guy in Joel Schumacher's film, but it shouldn't disappoint fanboys...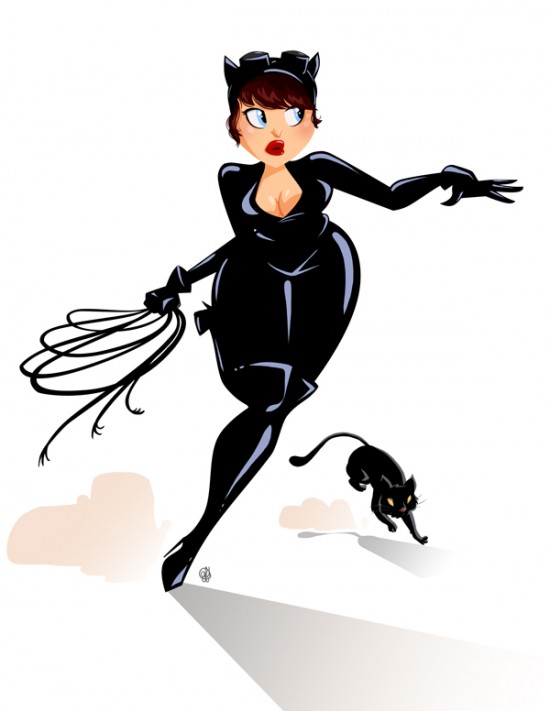 Geek Art (via Geek Tyrant) has posted a cool set of art by Geneviève Farley that takes strong, female geek characters, like Catwoman above, and give them a cartoon, pin up style.
A Pittsburgh man tried to steal a cop car with a police officer still in it earlier this week. He said he was shooting The Dark Knight Rises and this was in the script. Great excuse, dick.
The cast of Spider-Man: Turn Off The Dark returned to the Late Show with David Letterman a few weeks back and performed the above number. If you can believe it, this song – I think – is one of the new "improvements" on the original play. Yeah. Thanks to Topless Robot.
The Miami New-Times has a funny list of the top five superhero movies that don't exist and should probably stay that way. It's honestly just a list of bad superheroes no one would make a movie of anyway but it's worth mentioning.
Due to the amount of graphics and images included in Superhero Bits, we have to split this post over THREE pages. Click the link above to continue to the second page of Superhero Bits.
A YouTube user named CVG went into the video game Mirror's Edge and perfectly duplicated the point of view finale of The Amazing Spider-Man trailer. Pretty cool find from Filmdrunk.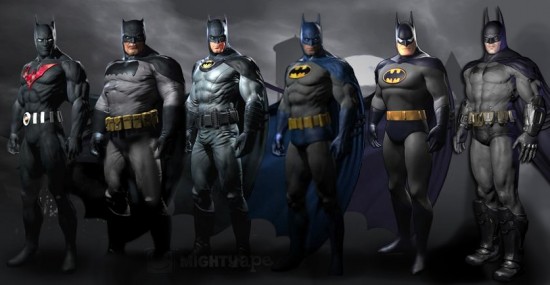 Here are all the different Batman costumes you can play with in Batman: Arkham City. Head over to this Arkham City fan site (via Geek Tyrant) to find out how to access each one.
For those of you who love The Dark Knight Rises spoilers, What Culture has compiled a list of 10 things that will probably happen in the film. Pretty solid thinking.
We generally don't run a lot of strictly comic book news in this column, it's supposed to be more movie based, but how often do you get a comic book trailer? Here's one, thanks to Comic Book Resources, for the new Incredible Hulk book.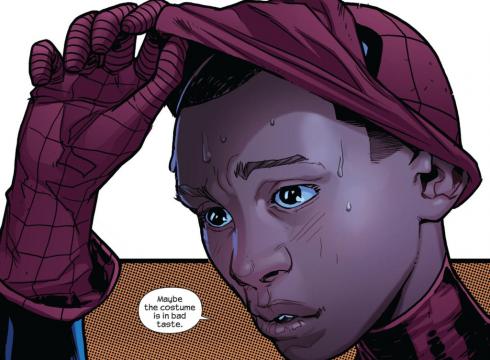 While we're on the topic of comic books, USA Today revealed Marvel comic books' new Spider-Man: Miles Morales. He's a half-black, half-Hispanic teen who has taken over for the deceased Peter Parker. He first appears in Ultimate Fallout #4.
This is a little old, and I hope they update it once Thor and Captain America: The First Avenger come out on Blu-ray but FilmBuffOnline (via The Disney Blog) posted an in depth timeline of how the first three Avenger movies – Iron Man, Incredible Hulk and Iron Man 2, all fit in the same timeline.
Due to the amount of graphics and images included in Superhero Bits, we have to split this post over THREE pages. Click the link above to continue to the third page of Superhero Bits.
[No photo]
Worst Previews (via Total Film) has posted another Dark Knight Rises set photo from Pittsburgh revealing Joseph Gordon-Levitt's character. Unless you consider bad blue plaid a spoiler, then this is safe.
Here's a great story about how one person at Comic Con can make a difference. A girl dressed up as Batgirl asked DC Comics a question about why there aren't more female characters in the comics and DC got so taken back by the statement, they immediately addressed it. Read the story over on io9.
[No photo]
Comic Book Movie has posted some set construction photos from Cleveland that they assume is some sort of major building in The Avengers. Stark Tower maybe? Head there for more info.
Anne Hathaway spoke to Total Film (via CBM) about why she took the role in The Dark Knight Rises. There's more at that link.
I went after it because it was the best role and Chris was willing to meet me. I want to be the best actress I can be and that means working with the best people and taking the most challenging roles.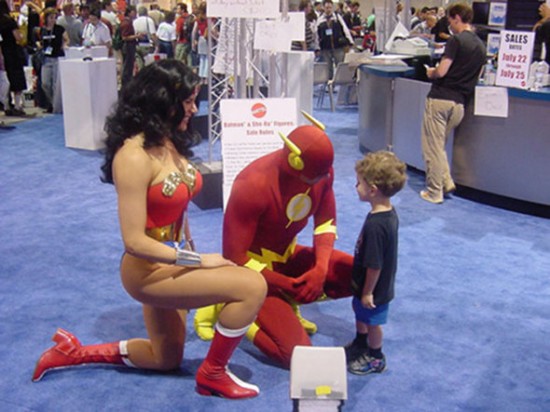 The hilarious Comic-Con cosplay photos just keep coming. Here's one from Bleeding Cool (via Fashionably Geek) of some DC superheroes helping a lost child.
Before The Trailer reports that Man of Steel will be in Chicago filming exteriors from August 7 through 17. Look out for spy pics!
[No photo]
Speaking of Man of Steel, here's a great shot of the Kent farmhouse in Smallville from the film. This pic, and many other, are on this Facebook page (Via Collider).
Geekscape ranks all the cinematic Catwoman and puts Anne Hathaway dead last! Well, before you Dark Knight Rises marks jump, we haven't seen her yet so it makes sense.