Drake Doremus Talks 'Like Crazy' Trailer, Post-Sundance Expectations, A New PG-13 Rating And The Film's Darker Cousin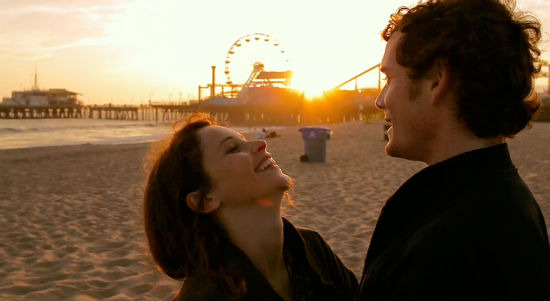 Writer/director Drake Doremus knows that the sound on Monday's trailer premiere of his award-winning Sundance romance Like Crazy was bad and he takes full responsibility. You see, he was in New York working on his next movie starring Guy Pierce, Amy Ryan and Like Crazy co-star Felicity Jones and was forced to mix the sound over the phone and e-mail. But that's been fixed now. So take another look at Like Crazy, a realistic, heartbreaking romance about long distance love between college students played by Anton Yelchin (Star Trek) and Felicity Jones (Cemetery Junction). The film premiered at Sundance, won multiple awards including the prestigious Grand Jury Prize, was immediately purchased and is finally scheduled for release on October 28.
Doremus, who previously directed Spooner and Douchebag, spoke to /Film on the phone from New York to talk about the trailer premiere, what it's like having a hit film at Sundance then having that film disappear for almost a year. He discussed cuts he made in the meantime and his next movie, which he describes as the "darker cousin" of Like Crazy. Plus, he explains what you should get out of the trailer and talks about balloons and Sliver. Yeah, you'll want to be reading this interview.
As usual, my questions are in regular font like this and his are in block quote. But first, let's watch the new trailer with fixed sound.
/Film: I saw the film at Sundance, I loved it and I think the trailer was a beautiful representation of the film without giving too much away. What do you want people to take out of your trailer?
Drake Doremus: I want them to feel something, more than anything. More than understanding the film intellectually or what they're going to see, I want them to feel something emotionally and hopefully therefore understand that when they see the film that's mainly what they're going to get out of it. It's an emotional journey.
The music in the trailer is a haunting UB40 cover. Who is singing and did you do it to pay homage to the film Sliver?
[Laughs] Well you know it's an Elvis song first.
Oh my god, yeah. [Side Note – I'm a child of the '90s and a movie buff, not a music buff. My apologies to the King. Back to the interview]
Unfortunately UB40 did cover it but [laughs] I'm sorry what was the question?
Who did this version and how did you come across it? My apologies, I really just wanted to make a Sliver joke.
Sure, good. It's always good to work in a Sliver joke. Or a Stephen Baldwin joke whenever you can as well, is always good. Of course. But Ingrid Michaelson is the name of the artists, she's a singer songwriter. One of our trailer editors found it, actually, and we really felt it sort of fit the movie.
Many of the people who watched your trailer Monday were complaining that they couldn't hear most of the dialogue. I know the new release fixes that but did that glitch frustrate you or were you unaware of it?
Yeah, it's very frustrating. It's my fault. I'm in New York right now making a new movie and I sort of mixed it over the phones slash over the e-mail and didn't quite get it right but we got it right now, so people will be able to see it the right way.
So even though it is sort of a softer movie, that was totally unintentional.
Yes it was.
The first poster also came out Monday. What are you thoughts on that? It seems pretty ballsy to not put any real images on it.
That's actually not the poster, that's just an image. The actual poster is on Entertainment Weekly [and you can see it below]. It has them on the beach. But I actually like that other one too. I'd never even seen that until it went up but it's a cool visual.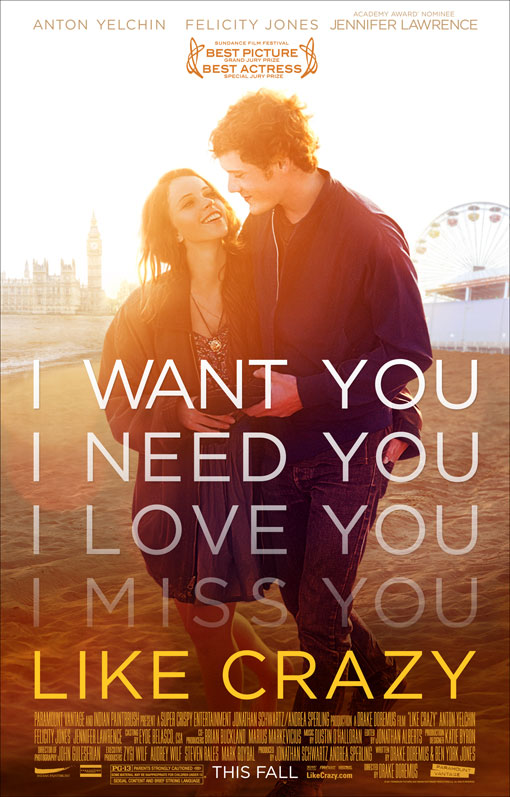 Okay, I'll be sure to make note of that because I thought that was the poster. Moving on, I saw the film at Sundance and you guys obviously did very well there. But you come out of Sundance guns blazing, such great buzz, the movie then goes away for almost a year. What's that like as a filmmaker to leave your film and then come back to it?
To be honest it's a little bit frustrating. Especially now being involved in another film, it's weird. It's a weird thing because you're sort of in it, you just mixed it, you just color corrected it, then you screen it and it's sold and it kind of goes away. But what's exciting about it is that we're going to be premiering the film at Toronto and it's going to be playing a bunch of other festivals and you kind of get to revamp it again. But it's sort of a strange thing I think, premiering a movie, then selling a movie and then waiting a while. But I totally understand why that happens. But you're sitting on pins and needles just waiting for people to see the movie and for it to be experienced again and it's a little bit of a scary break actually. It's certainly not comfortable that's for sure.
In that time has anything been changed in the movie?
We pretty much changed the entire thing. We replaced every shot with a different...no I'm kidding. We actually did, a little bit. The movie was an R-rated film when we screened it at Sundance and we made some changes to make it PG-13 but very slight changes. It's basically the exact same film. So we made very very minor changes.
You guys took home the Grand Jury Prize at Sundance and many winners of that award go on to get Best Picture nominations at the Oscars. Is that something you thought about after? Not to mention you're coming out in sort of Oscar season?
I'd be lying if I said it didn't cross my mind but it's certainly not something that consumes my mind that often. I just want people to experience the movie and feel like it embodies what it feels like to go through a long distance relationship. And if it does well at any award season or time, great, but that's just gravy at this point. Just having the movie out there and having people experience it is so special.
Outside of showing at Toronto and other festivals, what have you discussed with Paramount about marketing other than today's poster and trailer?
A lot of balloon drops everywhere. [Laughs] I think Paramount can answer that question better than me.
Okay, well how about how much input did you have on how your film is going to be publicly perceived?
A lot. I've been really fortunate enough to be involved a lot with Paramount. They've been so cool and so awesome to make sure that my voice is maintained in all the things that they're doing. I'm just really happy with what they're doing and they way they're representing the movie. We have a lot of really fun and exciting events and things coming up in September. A bunch of festivals in October that we're going to be going to between Toronto and the opening of the film. We're going to be launching it in a very bold and exciting way. So I'm just really excited that we have the opportunity to do it.
Obviously you have a great movie that speaks on its own but do you think having Anton Yelchin in a huge movie like Fright Night is going to help your movie?
What about The Smurfs?!?!
Anton's in that?
He's Clumsy Smurf, Clumsy Smurf!
I had no idea. Okay so how do you think having your stars in these big movies like Fright Night and The Smurfs helps your movie?
I think it's great. Watching everybody, Jen [Lawrence], Anton [Yelchin], Charlie [Bewley] and Felicity [Jones], sort of do really well in the last year is so exciting. All four of them are such incredible human beings and incredible talented performers. So it's exciting for me but also it's great for the movie. The more they're out there, the more they're exposed, the better so yeah. I'm excited for Fright Night and I'm excited for Hunger Games and I'm excited for Felicity to be in my new movie.
Let's talk about Felicity Jones. I first fell in love with her in Cemetery Junction, which I think it criminally underrated, then again I fell in love with her in your film. Talk to me about her a little bit because I think people are going to love her and don't know much about her.
I think this is a really exciting time for her where she's going to be seen a lot more. I mean she's just so in the moment, always. Extremely generous with how she attacks performing a character and she's always doing what's best for the movie and the story and not what she looks like or how she comes across. It's all about making the best movie possible and what's best for the story. So she's rare, she's kind of a throwback in a way. She's kind of like an Audrey Hepburn type where she really has the opportunity to be a star and should. So I'm hoping people see her the same way we do.
And you mentioned she's going to be in your next movie which also has Guy Pierce and Amy Ryan, is that right?
That is correct.
Obviously most filmmakers like to keep most things secret but what can you tell us about the new movie?
It continues to explore love and it continues to explore having it, finding it, losing it, making it, exploring it. It deals a little bit more with infidelity this time. But we've been sort of joking that it's the darker cousin of Like Crazy in a way. So it's certainly going to retain some of the tonal values that Like Crazy does but it's a little bit more of a thriller. So it's a little more of a romantic that's got some thriller elements to it. That's kind of an exciting thing for me to try, I've never done before and something I'm really interested in exploring.
And last thing, speaking of things you've never done before, what's the latest on the sci-fi book you're attached to, Through to You?
Yeah, that's a book that we optioned with Paramount. My amazingly talented co-writer Ben York Jones is writing as we speak. He's adapting. It's a book that comes out next year. It's sort of a Twilight for the Eternal Sunshine generation, is how we describe it as. So it's somewhere in between there but that's a bigger movie so we'll see what happens with that.But I'm definitely excited in being a part of developing the project.
So if all goes well, do you think that'll be your next movie after the Guy Pierce, Amy Ryan?
You never know. I'm trying to make one a year, which is the goal, which we'll see how long that can last but yeah that might be the next one or something else might come up. We'll see. I mean, it seems like all my movies are at Paramount now so I'm part of the family.
Thanks to Paramount and Drake Doremus for the interview. Like Crazy hits theaters in October 28.