Disney Denies Adam Sandler Attempting 'Three Men And A Baby' Remake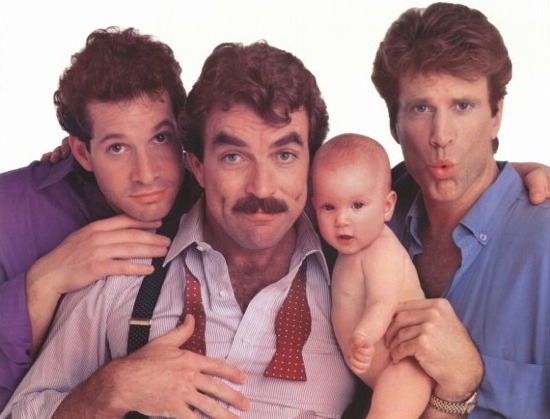 If someone showed you the trailer for Adam Sandler's Jack & Jill right before Funny People was released, you would have sworn it was a Judd Apatow joke. Unfortunately, that film isn't a joke but the latest Sandler rumor is. According to a recent rumor, Sandler was inspired by an episode of MTV's True Life to produce a remake of Three Men and a Baby featuring his friends David Spade, Chris Rock, and Rob Schneider. In this updated version, though, the twist would be that the men aren't straight; they're gay polyamorists.
Sounds a little too wacky to be true and, according to Disney, it is. They deny the rumor. Still, crazier things have happened. Read more about this rumor after the jump.
While Disney flat out denies the rumor that began over on Movieweb, let's roll with it for a bit, just because when else do we get to talk about Three Men and a Baby?
As you all probably know, the original film was released in 1987 and was directed by Leonard Nimoy (yes, that Leonard Nimoy.) It starred Steve Guttenberg, Tom Selleck and Ted Danson – who were all massive stars at the time – as three bachelors forced to raise a child when it's mysteriously left on their doorstep. Hilarity then ensues. It spawned one sequel, Three Men and a Little Lady and a rumored third part, Three Men and a Bride, was spoken about last year, but never materialized.
While the original films were all about stereotypical men taking on motherly characteristics, the rumored remake would give it a little Chuck & Larry spin with Spade, Rock and Schneider as three gay men who are all in one relationship.
If it was to happen, the gay angle is certainly one way to take the material and update it for the 21st century. With the right screenwriter, it could probably even be funny. But as this Cinema Blend article wisely asks, would a movie that exhibits such a liberal view on relationships really be a four quadrant hit like Sandler is known for? In a country where gay marriage is such a controversial topic, would people who are against that turn out to see three men in an polyamorous relationship raise a child? The only way for it to have a shot would be for Sandler to star, and even the original rumor doesn't go that far.
So yeah, this isn't going to happen. Despite Disney's denial though, do you think this movie could work in any way?