Drafthouse Films To Distribute Post-Apocalyptic Video-Game Dancing Movie 'The FP'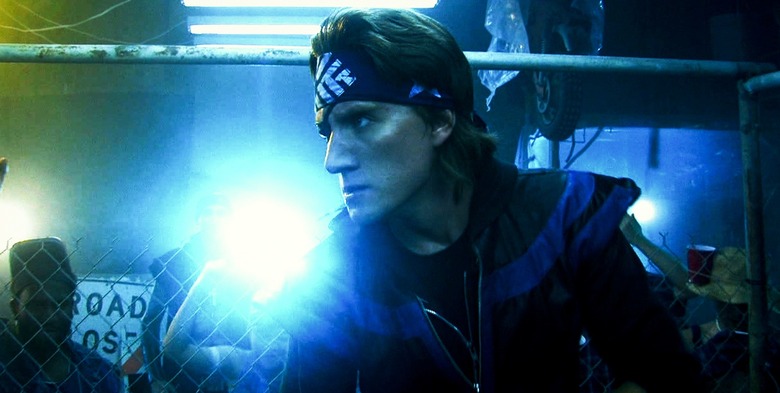 One of the most buzzed-about films out of this year's South by Southwest was the Trost Brothers' The FP, which screened as part of the SXFantastic series. The offbeat indie takes place in a retrofuturistic, post-apocalyptic world in which gangs settle scores via video-game dancing (think Dance Dance Revolution). Going by the trailer, it seems to be every bit as weird as the premise would suggest.
Now Drafthouse Films has stepped up to distribute the film, which means that the non-festivalgoers among us will finally get a chance to see what everyone else was talking about. Read more after the jump.
I fell in love with THE FP from its world premiere in Austin, and for the same reasons, we decided to pick up the film for distribution. The Trost brothers have an amazing, fresh creative vision and I want to be a part of the team that helps evangelize their strange new gospel.
The FP is expected to get a limited theatrical release in early 2012.
Drafthouse Films, the distribution arm of the much-loved Alamo Drafthouse Cinema, debuted in 2010 with the release of the joyfully subversive Four Lions. The company is also currently working on The ABCs of Death, a horror anthology that will pull together 26 different directors from all over the globe.
Although Drafthouse Films is still young, it sounds like they're already doing a good job setting themselves apart as a distributor of unique, interesting projects. It was also announced today that Evan Husney, formerly of Troma Entertainment and Severin Films, would be taking over as the company's director.
Here's the synopsis for The FP:
Accompanied by his brother JTRO, Beat-Beat Revelation champion BTRO must compete for the pride of their hometown, Frazier Park (The FP).
His opponent: ruthless fighter and trash talker, L Dubba E. L Dub not only defeats BTRO, he sends him to an early grave. L Dub's instant climb to power has forced The FP to fall into disarray. Crazed with anger, JTRO vows revenge.
After a crash course in the ancient techniques of Beat-Beat from master BLT, JTRO challenges L Dubba E. Their battle to the finish, born of lust, power and revenge, will leave only one man standing.
But to get a really good sense of what to expect, you'll need to check out the trailer, which we posted earlier this year (NSFW):
Discuss: Will you watch The FP? Do you think it looks more agreeably silly or obnoxiously cheesy? (I'm leaning toward the former, although I can see how the schtick might get tired after a while.)