New Poster And Images From Roman Polanski's 'Carnage'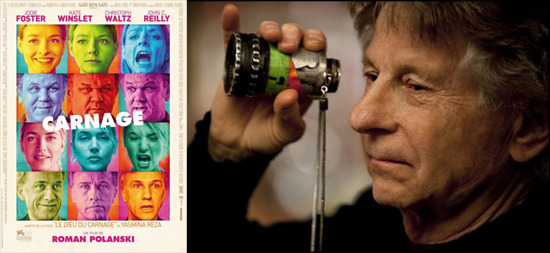 Roman Polanski's new film Carnage, an adaptation of Yasmina Reza's play God of Carnage, will soon premiere at the Venice Film Festival, and then open the New York Film Festival. We know the basics — Kate Winslet, Jodie Foster, Christoph Waltz and John C. Reilly play two couples who spend an evening... let's say 'interacting,' after their kids get into an altercation at school. That's the pretty wonderful French poster for the film above on the left, and we've got the full-size image along with some new images from the film after the break.
These images aren't terribly exciting, but then again, the movie is basically four people talking. But take heart: Pawel Edelman, who did a wonderful job shooting Polanski's last film, The Ghost Writer, is again manning the lights and camera for this one. His work was a highlight of The Ghost Writer, and I'm excited to see how his collaboration with Polanski makes the simple setup of four people talking into something specifically cinematic.
And Kate Winslet, speaking to EW, recently played up the humor in the play ("'I actually peed my pants, and not just once," she says.) So keep that in mind while looking at the mostly serious images below. The poster is perhaps a better image to work from if you want to use just one representation to pre-gauge the film.
Finally the poster reveals that Alexandre Desplat is doing the score for the film, so that should be an extra appealing factor for some of you.
Sony Pictures Classics will release Carnage in the US on December 16.
[Poster: The Playlist; Images: Rope of Silicon]