VOTD: 'Deleted' Season 1 'Lost' Scene Shown At Comic-Con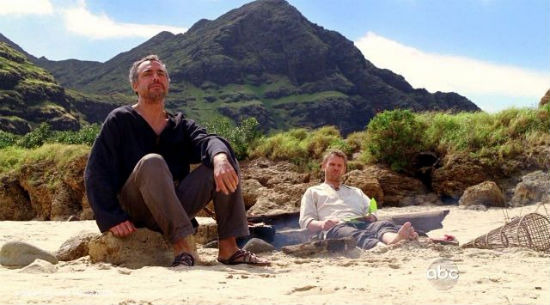 The most disappointing, albeit it inevitable, part of attending Comic-Con is when you hear about something that happened you would have loved to see but totally missed. For me, that happened at Entertainment Weekly's Totally Lost: One Year Later panel when show runners Damon Lindelof and Carlton Cuse made a surprise appearance with a "deleted scene" from the finale of the first season.
Here's the set-up. Lindelof and Cuse take a lot of flack for saying they had everything in the series planned out even though very little of what actually happened – Jacob, the Man in Black, Candidates, light caves, etc – was never hinted at. This scene "proves" that they weren't lying. The fact that it was shot specifically for Comic-Con, a year after the series finale aired, is insignificant. It would have been awesome to be in the room for this surprise, especially the big reveal at the end, but thanks to the magic of the Internet, we can all check it out now.
Thanks to ABC.com and Entertainment Weekly for the video. Obviously, it presents the most epic spoilers imaginable for the entire series of Lost so if you haven't seen it and plan to, please avoid.
While the memory of Lost has been tainted for many because of the lack of concrete answers at the end of the series, videos like this remind me why I loved the show in the first place. It was a show for the fans, by the fans, and the fact that Lindelof and Cuse can laugh about something as huge as this a year after they finally finished the show is certainly in step with how respectful and gracious they've been with fans during the whole ordeal.
Plus, it makes a good point. Imagine this scene was real. Would you have really wanted to see it in the episode in question? It would have been slightly jarring, to say the least. And yes I'm mostly joking.
Darlton later spoke to the EW Totally Lost team about the video and you can watch that by clicking here. What do you think?