Watch The Animated 'Tron: Uprising' Comic Con Teaser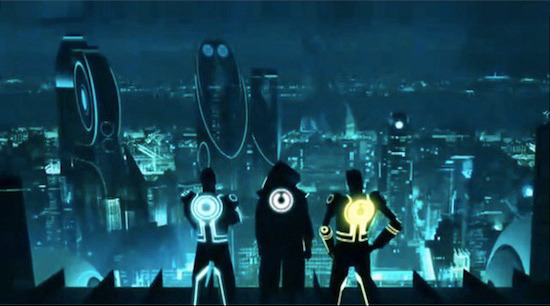 Stock in Tron — elevated in value over the years thanks to the forgiving nature of nostalgia — took a dive after the release of Tron: Legacy. But Disney isn't giving up on the property, and is moving full speed ahead with an animated series that explores the Grid, aka the digital world at the core of the two films. A good idea, as animation could turn out to be the ideal medium in which to explore the hidden corners of the Grid.
Check out the first footage from Tron: Uprising, after the break.
Voices in the show come from Elijah Wood, Emmanuelle Chriqui, Mandy Moore, Paul Reubens, Lance Henriksen, and Bruce Boxleitner. Daft Punk's Tron: Legacy score is repurposed here, as you'll discover right away. (That's a remixed 'End of Line' playing at the beginning of the clip, with a voiceover echoing Jeff Bridges narration of 'The Grid,' from the Tron: Legacy score.)
The clip showed up at Comic Con; the show will premiere in Summer 2012.
Produced by Disney Television Animation, the series follows Beck, a young program who becomes the unlikely leader of a revolution inside the computer world of The Grid. His mission is to free his home and friends from the reign of the villainous Clu and his henchman General Tesler. Beck will be trained by Tron – the greatest warrior the Grid has ever known. Tron will not only teach Beck the fighting skills he needs to challenge this brutal military occupation, but will be a guide and mentor to him as he grows beyond his youthful, impulsive nature into a courageous, powerful leader. Destined to become the new protector of the system, Beck adopts Tron's persona and becomes the archenemy of Tesler and his oppressive forces.