Robert Patrick Replaces Bryan Cranston In 'Gangster Squad'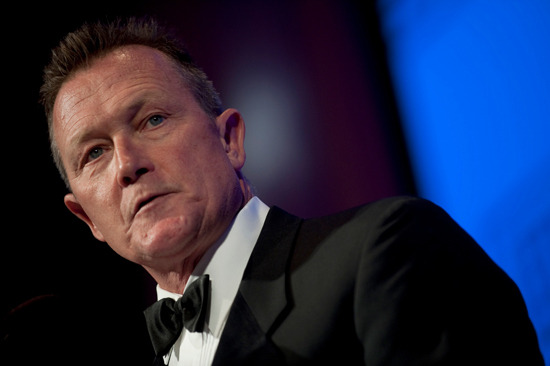 Ruben Fleischer has assembled a fantastic cast for his third major studio feature, Gangster Squad, but recently he lost one key player. Bryan Cranston, originally cast as Texan cop Max Kennard, transplanted to LA and roped into the mob-busting gangster squad, had to drop out in order to do Ben Affleck's film Argo. So we still win, as we'll see Mr. Cranston in what might be a solid film.
But that left the Max Kennard role open, and now Robert Patrick is stepping in. Can I get a .GIF photoshop job of the T-1000 morphing from metal Bryan Cranston into Robert Patrick? Please?
Variety reports, calling the character "a laconic LAPD officer from Texas who enforces the law ambitiously." The LAPD's own Will Beall wrote the script based on Tales From the Gangster Squad, an LA Times series by Paul Lieberman that follows the LAPD's attempt to curtail the incursion of organized crime into LA in the '40s. The film, called an actor's showcase, has been a surprisingly high priority at Warner Bros. for the past year.Sean Penn plays famed LA mob boss Mickey Cohen, and the rest of the gangster squad is comprised of Ryan Gosling, Josh Brolin, Michael Pena and Anthony Mackie. Giovanni Ribisi and Holt McCallany are on board, too, and the director's Zombieland star Emma Stone gets to play the femme fatale caught between Mickey Cohen and Ryan Gosling.