'Just Like Being There:' A Gig Poster Documentary, Now In Production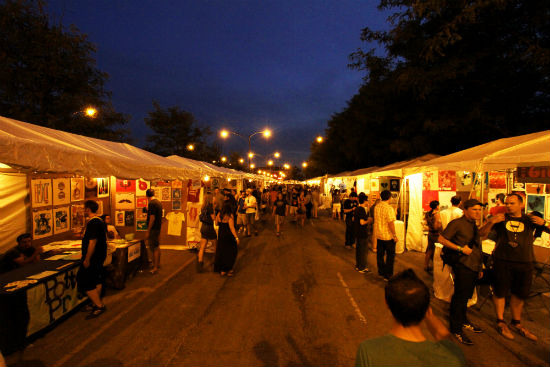 /Film is proud to exclusively announce that a previously untitled, currently in production documentary on the world of gig posters has officially been dubbed Just Like Being There. The crew, lead by director by Scout Shannon and producer by Johanna Goldstein, has been traveling the country documenting some of the best poster artists in the business and they plan on releasing a movie about this world. If you read /Film, you know this is a subject that's near and dear to my heart so when I heard about this film, I had find out more about it to share with you all.
"Gig posters" doesn't only refer to concert posters, though. It pretty much covers all kinds of limited edition poster art such as the posters that Mondo releases, gallery shows at places like Gallery 1988 in Los Angeles or Spoke Art in San Francisco and, of course, the art that people make for the concerts you go to. Just Like Being There focuses on three specific artists – Kevin Tong, Daniel Danger and Jay Ryan – at the center of this ever-expanding and increasingly popular world but will also feature footage from concerts, bands, poster conventions and various gallery openings for artists who grew to prominence through their gig posters. The aim is to open a window into this niche world and make audiences aware and excited about this kind of art, much in the way Exit Through the Gift Shop ignited the world of street art.
After the jump, find out how you can be part of the filmmaking process, watch an exclusive clip from the film, read an interview with the director and much more.
As of right now, the best place to get information about Just Like Being There is their IndieGogo page. That's also where you can contribute money to the still-in-production film, which will net you some very enticing goodies.
Here's an earlier promo introducing the film to everyone.
INDIEGOGO PROMO FINAL from Johanna Goldstein on Vimeo.
And here's a brand new, just released montage of footage that'll give you an idea of the things you will see in the movie. We're the first to premiere it.
New Promo w/ TITLE (corrected) from Johanna Goldstein on Vimeo.
Just from those two videos you can get a pretty good sense of what to expect from Just Like Being There. In addition, though, we also had the opportunity to do a brief email Q&A with director Scout Shannon. My questions are in bold and Shannon's answers are in italic.
/Film: What made you guys decide this was a topic worthy of a documentary?Shannon: I have long been fascinated by graphic design and poster art. Having played in a band myself, I distinctly remember the feeling I had the first time I saw my band's name on a poster.  It was a Chuck Sperry (Firehouse) poster, and I kind of went "Now I'm in a *real* band!" Records, radio play, touring, all of that was nice, but the fact that an artist took the time to put my band's name on a poster, that felt legitimizing to me.Johanna and I actually met at an art show, where we were both admiring the same painting. We started talking about our mutual obsession with OMG Posters, and how each of us would refresh that page every day or two and drool over the new releases. When we both realized we loved gig posters (she has original pieces by Jay Ryan and Kevin Tong in her home!) we knew this was the thing we needed to explore. And amazingly, after the enthusiastic reception we've gotten from the artist community, Mitch Putnam, the guy who runs OMG, agreed to come on board as our advisor. We feel like a couple of kids in a candy shop.How and why did you choose to focus on Tong, Danger and Ryan as opposed to some other artists?I had introduced myself to Kevin Tong at a Renegade Craft Fair in Los Angeles. I saw a poster of his from a ways away and kind of flipped out. I told my girlfriend, "Hey! That's that poster! The one with the robot kissing the girl! I love that poster!" and then dragged her across the fair.  I get a little incoherent when I'm excited. I geeked out on Kevin for a few minutes, probably scared the hell out of him.  After that, we kept bumping into each other and just kind of became friendly.I knew Jay Ryan because we'd been introduced by a mutual friend, the cartoonist Paul Hornschemeier. Jay and I are the same age, and we hit it off right away, since we have a lot of common interests in music and art. I had asked him to take part in another film that Johanna and I were going to do, and he was on board, so when we put that project on hold, I guess you could say he was already resigned the fact that I was going to find an excuse to stick cameras in his face.I asked each of them if they'd be interested in participating in a documentary project about the poster scene, and Kevin right away recommended Daniel Danger.  I believe his exact words were something like, "You have to get Danger involved–that kid is interview gold."  And if you check out Daniel's work, his art for sure, but also videos for his band and other random short films he's been involved with, you'll see that it was practically a no-brainer.  So Johanna and I flew to Boston and met the guy, and within ten minutes, it was like we were old friends.Is there anyone or anything that you wanted to cover that you haven't?Absolutely! There are a *million* things! We could spend the next five years traveling around, filming people. I'd LOVE LOVE LOVE to get to Australia to interview Ken Taylor. He just released a Bon Iver poster that is stunning.  Likewise, I'd love to fly to the UK and hang out with Olly Moss.  His recent opening at Gallery 1988 in LA was amazing.  He does these conceptual pieces that are just phenomenal, and I see so much of his work influencing other poster artists.  Lastly, I'm really hoping we can visit Aaron Horkey at his place in Minnesota.  He's generally not interested in being interviewed too much, but I feel like a survey of the current gig poster scene would be lacking without his voice.  Aaron, if you're reading this, call me!When do you expect to be done with production, roughly, and are you planning on hitting the festival circuit? If so, when?We will be shooting artists for most of July, August and September.  We're going back to Chicago and Boston, obviously, since that's where Jay and Daniel each live. But we'll also stop by Lincoln NE, Columbus OH, Detroit MI, Athens GA, Asheville NC, Portland OR, Minneapolis MN and Seattle WA. And that's just off the top of my head.  Part of what I want to do is make the movie almost like a travelogue–because how many people can take half a year off from work to go to all these cities and hang out with cool poster artists?  We'll also be heading down to Austin TX, which I'm really excited about, to talk with the guys at Mondo and the Alamo Drafthouse.  What they're doing, sort of integrating gig posters and film posters, has really expanded the world of the gig poster and exposed it to a brand new audience, and we want to celebrate that fact.After that, we have to start working with bands.  What I'm really hoping we'll be able to do is not just interview the musicians, but also get footage of them playing–and we're specifically talking about bands who really engage with the poster scene–The Black Keys, Mogwai, The Decemberists, Circa Survive, Wilco, Spoon.  There are many, many more of course.  One of my all time favorite films is "Urgh! A Music War," which was just two hours of nonstop concert footage of bands all over the world. It made a huge impression on me when I saw it on VHS as a teenager.  I'd like to be able to make something that really feels like the experience of seeing a show–hence the film's title.  Johanna and I are well aware of the difficulty we'll have, but if we can pull this off, it'll be totally worth it.
To keep up to date on Just Like Being There, keep an eye on their IndieGogo page and of course keep checking /Film for more info.
Photo credit: Daniel Danger