Terry Gilliam Crafting A Script Based On Paul Auster Novel 'Mr. Vertigo'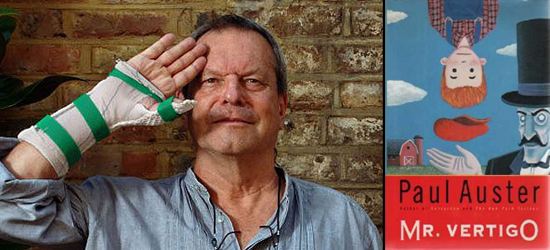 Novelist Paul Auster has seen his work on screen through a variety of processes: The Music of Chance adapts his novel of the same name (not very well); Smoke and Blue in the Face are the product of a collaborative writing/directing process with Wayne Wang, and Mr. Wang also filmed The Center of the World, on which Mr. Auster was a story collaborator.
So: several films, but few direct novel adaptations. That could be in part due to the fact that his books aren't quite straight fiction, but rather a blend of genre tropes, existential curiosity and magical realism. Not the easiest adaptations. Those elements also make up a good part of the ingredient list for Terry Gilliam's scripts, however, and so it makes sense that he is now writing a script based on Mr. Auster's novel Mr. Vertigo.
Terry Gilliam recently said at  Q&A session,
I got a book. It's called 'Mr. Vertigo' by Paul Auster. And I'm actually working on a script of it at the moment. Doesn't mean it will be a film; but I'm working on a script.
Note the disclaimer along with the news: not a movie yet, but it could be. Just consider the rocky path to production he's had with films like The Man Who Killed Don Quixote (financed, shooting, shut down, re-conceived, cast, ultimately not financed) or The Defective Detective, written years ago with Richard LaGravenese and now possibly up for reconsideration as well. And the difficult production of The Imaginarium of Doctor Parnassus is recent enough that it probably doesn't need to be recounted.
Short form: When you're Terry Gilliam, nothing is certain even when it seems certain. When the end credits roll, then it's a film.
This is the synopsis of the novel. I've owned it for years but will confess never having got through the whole thing, so I won't try to offer perspective.
It will come as no surprise to the gifted Auster's ("Moon Palace"; "The Music of Chance") many fans that walking on air, the implausible premise of his marvelously whimsical seventh novel, is treated with convincing gravity. Walt Rawley recounts his life: an orphan born in 1924 with "the gift," he was seized by his master, Mr. Yehudi, a Hungarian Jew who taught him to levitate. Yehudi takes the boy from St. Louis to his own Kansas menage, which consists of Mother Sioux and Aesop, a young black genius. (Also influencing Walt's life is classy, henna-headed Marion Witherspoon, a seductive mom figure from Wichita.) After harsh training, Walt tours with his mentor as "the Wonder Boy," aka Mr. Vertigo. Crammed into this road saga is the potent Americana of myth: the 1920s carnival circuit, Lindbergh's solo, the motorcar, the ethnic mix, the Ku Klux Klan and the Mob, baseball and Kansas, "land of Oz." Diverse mishaps descend, but eventually Walt glides into old age and writing. The characters speak a lusty lingo peppered with vintage slang, while a postmodern authorial irony tugs their innocence askew. The prose grows particularly electric when demystifying "loft and locomotion." Implicit is an analogy between levitation and the construct of fiction: both require fierce discipline to maintain a fleeting illusion.
[ The Real Gilliam Fan via The Playlist]