Rosario Dawson And Vincent Cassel Joining Danny Boyle's 'Trance'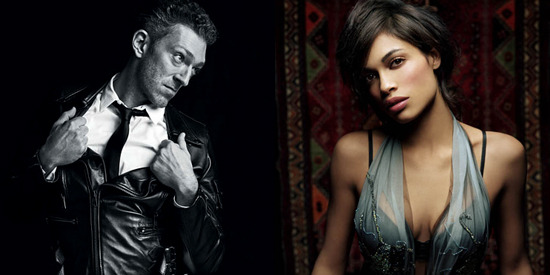 Danny Boyle just bolstered the cast of his new thriller Trance, which will shoot later this year, then go dormant until late 2012 while the director works on the London Olympics, before finally being completed next fall for release sometime in 2013. James McAvoy is already set to play an accomplice in a botched art heist, and now he will likely be joined by Rosario Dawson and Vincent Cassel.
The last time we checked in on the film, Scarlett Johansson was said to be the prime candidate for the female lead, which has now gone to Rosario Dawson. This is a better outcome, as far as I'm concerned. And Vincent Cassel has been rumored for the movie, but so was Colin Firth — looks like the former won out in the race for the role. Deadline doesn't mention the other candidates in its report, but at this point they don't really matter.
Here's the synopsis for Trance, which is based on a 2001 British TV film:
An assistant at an auction house masterminds [an art] heist and teams up with a gang of thieves, but suffers a blow to the head and wakes up with amnesia. He is the only one who knows where the painting's location is and after his continued failure to remember, the gang begins to suspect duplicity on his part and hire a female hypnotist to get into his brain.
James McAvoy is set to play Simon, aka the assistant; Vincent Cassel will likely be Aiden, the leader of the gang of thieves, once meant for Michael Fassbender, and Rosario Dawson the hypnotist, who Deadline says "develops an unusual relationship with both men."
The film is said to be working from a relatively modest budget with a script that has already been compared in tone to Mr. Boyle's breakthrough film Shallow Grave. I'm not ready to race forward to 2013 just yet, but all the same this is the most interested I've been in a Danny Boyle movie in a while.