Photos: Blake Lively & Chloe Moretz In 'Hick', Jason Segel In 'Jeff Who Lives At Home', Rachel Weisz & Tom Hiddleston In 'The Deep Blue Sea', Michelle Williams, Seth Rogen & Sarah Silverman In 'Take This Waltz'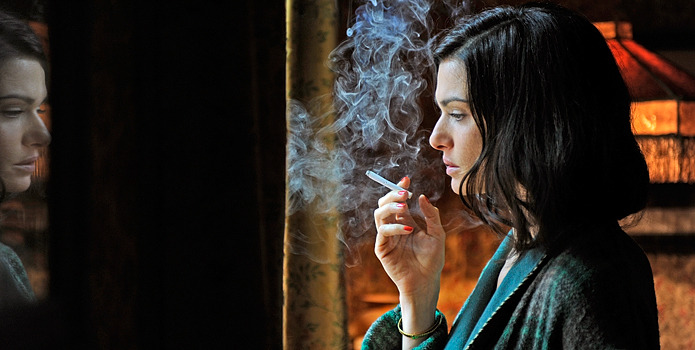 The Toronto International Film Festival has just announced the first fifty or so films from its 2011 line-up today, including new works by Alexander Payne, the Duplass Brothers, Sarah Polley, and Madonna, and many, many others. In the process, TIFF also released a crop of brand-new photos from several films from the schedule. Hit the jump for new photos from the following:
Derick Martini's Hick, starring Blake Lively and Chloe Moretz
The Duplass Brothers' Jeff Who Lives at Home, starring Jason Segel and Ed Helms
Terence Davies' The Deep Blue Sea, starring Rachel Weisz and Tom Hiddleston
Sarah Polley's Take This Waltz, starring Michelle Williams, Seth Rogen, Luke Kirby, and Sarah Silverman
[all photos from the TIFF website]
Let's go in order, shall we? First, we have a still of Chloe Moretz and Blake Lively in Hick, Derick Martini's adaptation of the novel by Andrea Portes. The film centers around Moretz' character, a 13-year-old girl named Luli who hits the road to Las Vegas in order to get away from her neglectful parents. Lively plays a grifter who takes Luli under her wing. Alec Baldwin, Juliette Lewis, Eddie Redmayne, and Rory Culkin also star.
Then, we have two images from the Duplass Brothers' stoner comedy Jeff Who Lives at Home, starring Jason Segel and Ed Helms as a pair of brothers. Here's the description of the Sword in the Stone-style quest movie: "When he leaves his house on a banal errand for his mother, Jeff (Segel) discovers that the universe might be sending him messages about his destiny."
Perhaps the most aesthetically pleasing photos in this set are those from The Deep Blue Sea, directed by Terence Davies and starring Rachel Weisz as "a woman whose overpowering, obsessive love alienates the men around her and destroys her well-being." In these shots, Weisz works her magic on Tom Hiddleston against a sumptuous 1950s London backdrop. (Yes, we've featured one of these photos before, but surely you're not going to complain that I'm showing you too much of these two gorgeous people.)
Finally, we wind up this collection with three stills from Take This Waltz, Sarah Polley's new project. The "bittersweet" film stars Michelle Williams and Seth Rogen as a married couple, Luke Kirby as a new man who tempts Williams' character to stray, and Sarah Silverman as Rogen's sister. Also, Silverman is said to appear naked at some point — though not, fortunately or unfortunately, in these photos here.