WTF: Taiwanese Animators Create New 'The Dark Knight Rises' Trailer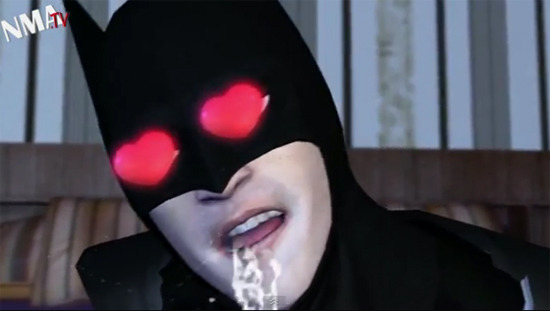 If this isn't the most grotesque take on Batman you see today, I'm not sure I want to see what is. The folks at Taiwanese 'news' animation site NMA.tv have come up with an alternate cut of a teaser for The Dark Knight Rises. At least, that's the pitch. In reality this is more like the next-day fever dream of someone who collapsed on the couch after binging on horse tranquilizers, Mountain Dew and Batman slashfic. Check it out below.
The clip's YouTube page offers only this by way of explanation: "Looking forward to the final chapter of Christopher Nolan's Batman trilogy? We are too. Here's an ode to Christopher Nolan's best work." Not enough, as far as I'm concerned. For those who were disappointed with the real teaser for the film, how does this compare?