Harrison Ford To Play Wyatt Earp In 'Black Hats'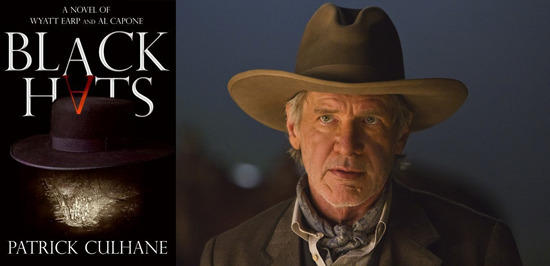 Cowboys & Aliens may turn out to be just the first step in Harrison Ford's foray into westerns with a new spin. He's now attached to play an aging Wyatt Earp in a film called Black Hats, which is based on the book of the same name penned by Max Allan Collins under the pen nam Patrick Culhane. The story involves not only Earp, but the son of Doc Holliday and a young Al Capone.
THR says that Kurt Johnstad (300, 300: The Battle of Artemisia) will script based on the book.
The story, which is a fictional story blended with a bit of fact, is perhaps more of a thriller than a western, as Mr. Ford would play an older Earp working as a PI and film consultant in LA. He connects with the son of Doc Holliday, who is entangled with the dealings of rising crime figure Al Capone. The project is said to have moved forward because Harrison Ford liked the idea of playing a gunfighter in 1920s New York.
The book can be encapsulated like so:
A brilliant, original thriller that re-creates an exciting and dangerous time in American history and brings together two storied and feared crime legends. The Prohibition era has just begun, the Wild West a fading memory, and Wyatt Earp is making ends meet as a detective in Los Angeles. To help the late Doc Holliday's son, Wyatt goes east, where his onetime deputy, Bat Masterson, is New York's top sportswriter. Wyatt and Masterson face a showdown with a new breed of badmen—mobsters led by Brooklyn's brutal young Al Capone, in a takeover of young Holliday's hot new speakeasy. As the '20s (and machine guns) roar, the lawless lawmen enter a glittering world of showgirls and cafe society, of gangsters and gamblers, where their legends may even end as Scarface Al's begins.