'Knights Of Badassdom' Comic-Con Panel And Trailer: LARP, Heavy Metal, And Actors From All Your Favorite TV Shows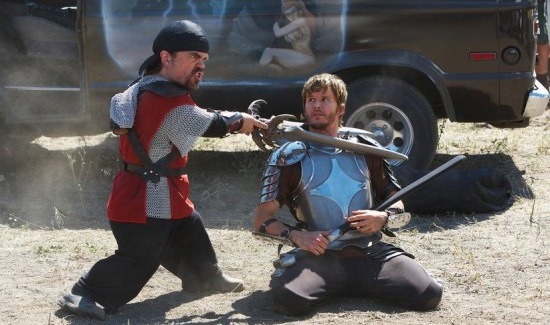 Director Joe Lynch and his star-studded cast took over Comic-Con's Hall H Saturday afternoon for a panel on their upcoming horror-comedy film, Knights of Badassdom. The Con-friendly story revolves around a group of LARPers who accidentally summon a real succubus from Hell. The cast list, too, sounds practically tailor-made for Comic-Con: True Blood's Ryan Kwanten, Community's Danny Pudi, Game of Thrones' Peter Dinklage, Firefly's Summer Glau, Mad Men's Michael Gladis, and 24's Jimmi Simpson, plus Margarita Levieva (Adventureland) and Steve Zahn (who was not present at the panel).
The event included the brand new trailer for the film (embedded below) and a clip from the movie, as well as a discussion and Q&A with Lynch and the cast. Read details on the panel and watch the trailer after the jump.
Personally, I wasn't a huge fan of the trailer — I dig the concept, but based on just the trailer, Badassdom looks unfocused and not especially funny. Happily, the clip shown at Comic-Con was much more enjoyable. Unhappily, that clip is not yet available online. (We're on an emotional roller coaster here.) In that scene, Joe (Kwanten) arrives at his very first LARP session with his LARP-obsessed roommate Hung (Dinklage). As Hung tries to teach Joe the ways of LARP, Joe makes eyes at the beautiful Gwen (Glau), herself a LARPer. Hung takes advantage of Joe's distraction, beating him down as Gwen watches in amusement.
(Okay, so in retrospect, that clip does not sound terribly hilarious written down. But consider the collective talent of Glau, Dinklage, and Kwanten, and trust me when I say it looks better than I'm making it sound.)
Though each of the cast members had plenty of fans, Lynch was really the standout of the panel. Funny, personable, and endearingly geeky, Lynch really came across as one of "us" — "us," in this case, meaning the geeks who flock to San Diego each year. Some highlights from the panel:
Lynch hinted early on that "not everybody has a happy ending," but it was Levieva who slipped a seemingly major spoiler. I believe it was Lynch who half-jokingly yelled "Spoiler alert!" afterward.
Lynch repeatedly emphasized that it was important to him to be "faithful" to the LARP community. He went so far as to reach out to the leaders of the West Coast-based LARP Alliance and asking them to come down and help train the actors.
Lynch revealed that of the cast, Dinklage was by far the best LARPer: "Peter Dinklage smoked every single cast member in one fell swoop... Dinklage destroyed us all." Dinklage's response: "It's made of foam!" Lynch: "It still hurts!"
Gladis, who plays King Diamond, explained how he won his part: "At the audition, I walked in and I said, 'I used to listen to Manowar in high school, and I was a LARPer in college.' I think that's how I got the role."
Pudi, on what his Community character would think of the movie: "I think Abed would be in this movie."
As previously reported, Lynch worked with Guillermo del Toro's Spectral Motion for some of the visual effects. During the panel, Kwanten revealed that the creature they'd created was "a 14-foot succubus."
Heavy metal clearly played a huge part in the film. The clip described above was set to music by the heavy metal band Amon Amarth, and during the panel, Lynch asserted, "We need more heavy metal in this world." Lynch described Bear McCreary's score as "heavy metal orchestra."