'In Time' Extended Trailer Starring Justin Timberlake And Amanda Seyfried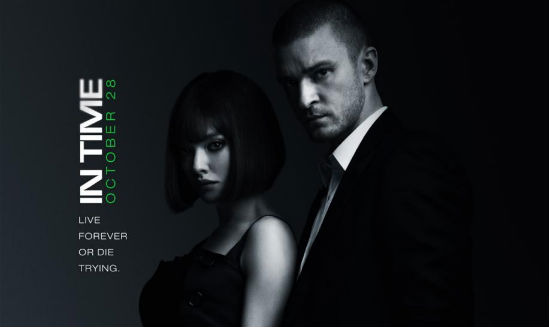 Imagine that your body stopped aging at 25 and that you could live forever. It's a very promising proposition if not for one small caveat. At the age of 25, your body is given one year to live. The only way to remain alive is to acquire more time on your body's biological clock. And time is precious. That's the gist of In Time, the latest film from writer/director Andrew Niccol (The Truman Show, Gattaca) starring Justin Timberlake, Amanda Seyfried, Olivia Wilde, Alex Pettyfer, Cillian Murphy and more.
In the world of In Time, you can acquire more time by working but, to buy anything, you need to give up some of your time. So the rich are basically immortal but the poor could die today if they don't work. It's a tantalizing conceit for a brand new action thriller that might sound a bit confusing but, once you watch this Comic Con sizzle reel, you'll have a much better idea of what to expect this Halloween.
Thanks to IGN for the embed.
In the coming weeks, you'll be hearing much more about In Time, including a brand new trailer and extended set visit report. But, for now, what do you think? Do you like the idea? How is Justin Timberlake action hero?