New Photos: 'The Hobbit' Dwarves, Lily Collins In 'Snow White', Emile Hirsch In 'The Darkest Hour'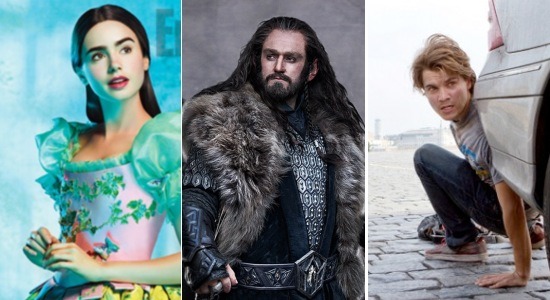 With this year's summer movie season winding down, it's time to look forward to upcoming entertainments. Today, we've got new photos from this December's The Darkest Hour and next spring's Snow White, as well as a composite photo from the highly anticipated The Hobbit adaptation. Check 'em out after the jump.
[photos via First Showing and Entertainment Weekly]
First, we have a picture of the dwarves from The Hobbit, all lined up together. It's not actually a new photo, but rather a composite of the photos we've already seen. Still, it's nice to finally see the whole gang together.
From left to right, that's Jed Brophy as Nori, Dean O'Gorman as Fili, Mark Hadlow as Dori, James Nesbitt as Bofur, Peter Hambleton as Gloin, Graham McTavish as Dwalin, Richard Armitage as Thorin Oakenshield, Ken Stott as Balin, John Callen as Oin, Stephen Hunter as Bombur, William Kircher as Bifur, Adam Brown as Ori, and Aidan Turner as Kili.
The first half of Peter Jackson's adaptation of J.R.R. Tolkien's The Hobbit, titled The Hobbit: An Unexpected Journey, will open December 14, 2012. Part two, The Hobbit: There and Back Again, will be released December 13, 2013.
Next up, we have the first shot of Lily Collins in costume as the title character for Tarsem Singh's Snow White (not to be confused with Snow White and the Huntsman, which stars Kristen Stewart). Collins will be co-starring with Julia Roberts as the Evil Queen, Sean Bean as the King, and Armie Hammer as the prince. Collins describes her character as "a joyful person who lights up a room and maintains grace at all times," which sounds like classic Snow White. But the character will have a modern twist as well: "She's been modernized in a way that she becomes a fighter in the end." Snow White will open March 16, 2012.
Finally, there's a new shot of Emile Hirsh in Chris Gorak's The Darkest Hour, which revolves around a group of young people stuck in Moscow during an alien attack. Hirsch will be starring alongside Olivia Thirlby, Max Minghella, Rachael Taylor, and others. Sadly, there are no aliens in the photo, though there is a really pretty building in the background. The Darkest Hour will hit theaters December 23, 2011.