'Drive' Red-Band Trailer And Comic Con Screening Reaction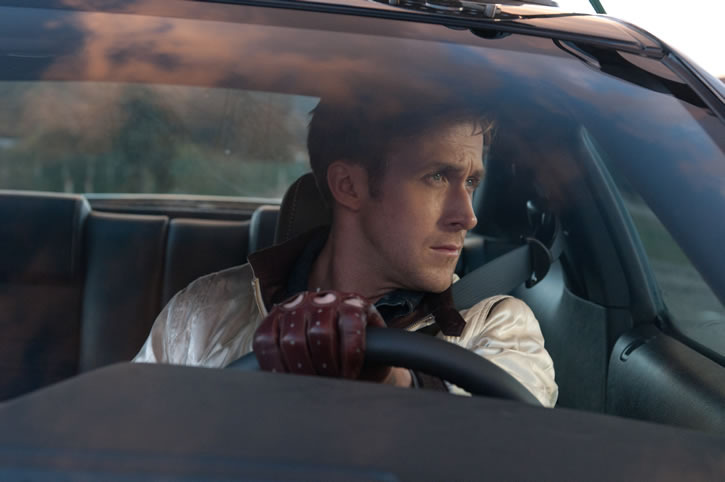 Yesterday in Hall H at the San Diego Comic Con, the new company FilmDistrict presented a panel featuring two films: Don't Be Afraid of the Dark and Drive, the latter being the sort-of action movie that won Nicolas Winding Refn the Best Director award at Cannes this year. We didn't know what to expect from the panel; both of these films have been screened and reviewed, so the typical Comic Con approach of teasing some footage with a short Q&A wouldn't work.
The panel turned out to be one of the best I've ever seen at Comic Con, as Guillermo del Toro and Nicolas Winding Refn spent most of it firing questions back and forth at one another and talking about their approach to filmmaking. It was the sort of in-depth conversation that almost never happens in a Hall H presentation, and it was wonderful. Almost as a bonus, the first US trailer for Drive was revealed. The trailer is now online — it is classified as a red-band clip due to some brief nudity — and I'll offer it an a few thoughts about last night's Drive screening after the break.
First up, the trailer shows quite a lot. Drive is a methodically-paced movie with a pretty simple plot. There aren't a lot of hidden corners in the film, storywise, and consequently the trailer pulls from a lot of significant moments in the film. You won't always know which of these pieces are significant, but still: this is a vague warning that there is a lot shown here. That said, if you were are excited about seeing footage from this one as I was, you might not be able to resist.
And while I don't want to offer a full review now, I loved the film. Drive plays, in a lot of ways, like a movie that was made specifically for me: a picture that really takes its time with a few characters, and lingers on the sense of what's going on between and around them. It occasionally explodes into extreme violence — and in this case I don't use the word extreme lightly — but there's an unusual and skillful balance between those moments and the tense and quiet bulk of the film. It's arthouse pulp, something like a David Lynch action movie.