Damon Lindelof Discusses The Secrecy Of 'Prometheus'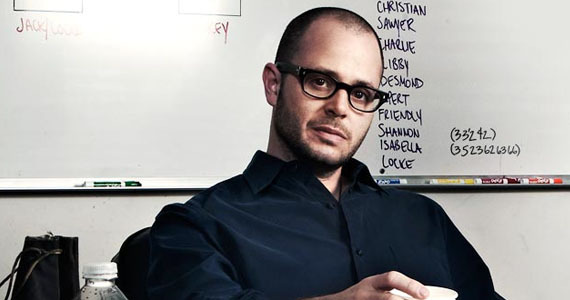 Damon Lindelof is a polarizing presence at Comic-Con. On one hand, he brings with him some of the most storied projects in recent memory. He presented, and executive produced, the ABC hit Lost for several years and this year, he brought with him a movie he co-wrote, Ridley Scott's return to the sci-fi genre, Prometheus. So that's fantastic. On the other hand, Lindelof comes to Comic-Con with his hands tied. His projects are shrouded in secrecy leaving him little wiggle room when it comes to providing actual information. Not that fans want to be spoiled but, for people who wait hours to see Lindelof present his wares, it's certainly frustrating.
At the press conference for Prometheus on Thursday, Lindelof addressed this issue specifically aimed at his new sci-fi opera. And while fans might get frustrated, he's response actually has nothing but them in mind. He also talks about the process of working with Scott, the title of the film and when audiences will begin to see Prometheus marketing materials. Read it after the jump.
Here's Lindelof:
I have to take responsibility for the fact that I keep gravitating towards things that have a little bit of mystery around them. And I know certainly that Lost has taken its rightful lumps for the idea of perhaps being too secretive but I feel like this was Ridley's thing. At this phase in my career, it's been really exciting to, after having the responsibility of Lost which was mine and Carlton [Cuse's] thing, to be at the service of someone who really inspired me to do this. And I really learned so much from Ridley in the way he thinks and the way he talks. The fact that this wasn't 'We have a meeting and I go off and I write a draft.' He and I were sitting across a table from each other, talking about each scene and the vision for the scene and he's very visual. He draws things on little napkins and pushes them across the table to me and I'm like 'I'm fucking keeping this napkin.' I have to constantly keep pinching myself about the experience that I'm having.
And I do feel that the movie comes out a year from now and I can guarantee you all that our desire to sort of keep secrets is really just driven by the fact of we don't want to tell you everything about the movie right now. I think you're going to start seeing a lot of very cool things, probably in the late Fall and certainly in January and February of next year. They're gonna sort of overtly declare what Prometheus is so, by the time you buy your ticket it's not going to be 'Oh my god. What the hell is this movie?' But at the same time, we do kind of want to keep the fun interplay alive. I think a lot of what's driving interest in this movie is this idea of 'What the fuck is it?'
And by calling it Prometheus were certainly not doing anybody any favors by just saying like 'This thing is called Batman. It's gonna be about Batman.' It's a slightly headier, we sort of joke about it, pretentious title. So we understand that the bar is very high. But I think that for Ridley to be coming back to this genre, for him to be directing a movie in 3D for the first time – he's shooting it in 3D, it's not a conversion – just the way that it's gonna look and the way it's gonna feel has to be special and part of the game is being a little bit secretive about it. And I like to keep secrets.
So, basically, this time around, it's just too early to truly reveal things. But it's happening. At Comic Con we got our first look at a still image and an awesome clip reel from the film, which reportedly won't make it online. But – soon enough – we'll all know what Prometheus is.