Mondo Announces Conan License, Sells Previously Sold Out Posters And More
For many people, the first time they get on the floor at San Diego Comic-Con can be an overwhelming experience. There are the thousands upon thousands of people, the sensory overload of cool stuff and the intimidating lines of people usually waiting for something you know nothing about. It can make you feel extremely out of the loop but also excited about the possibility of finding fun, hidden stuff.
It's the first time Mondo is on the floor at Comic Con. We've written about Mondo once or twice (or three million times) so you know they're the poster boutique of the Alamo Drafthouse. What you might not know is that, for their first year at Comic Con, their booth is insane. They brought with them several previously "sold out" posters for people to buy, announced a brand new license to make posters for Conan the Barbarian and Conan the Destroyer and, over the next few days, will be tweeting announcements of exclusive, limited edition, movie-themed screenprints that'll go on sale only at their booth. Read more about it after the break.
First of all, if you are here with us at Comic-Con, do yourself a favor and follow @MondoNews on Twitter. That's where Mondo will announce specific posters going on sale and then let everyone rush to booth #433  to buy them. Wednesday night, almost every other person went up and asked if they would be selling  the Captain America posters we featured a few days back. The answer? You'll have to wait and find out. My guess is that it's likely but there will be some other stuff too. New releases will hit every morning and afternoon, at a random time, Thursday though Saturday.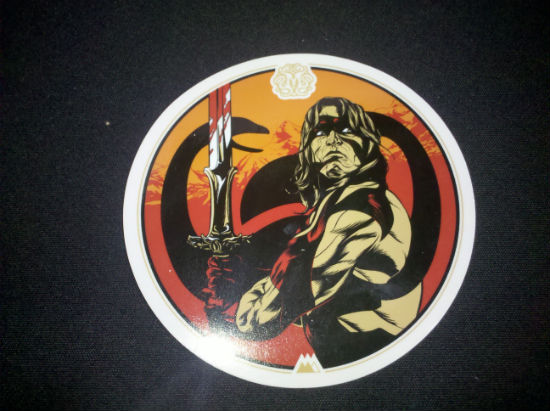 Also, with the release of the above sticker, Mondo announced they'll be making posters based on Conan the Barbarian and Conan the Destroyer. Justin Ishmael, creative director at Mondo, was quick to point out the posters would be themed to the original films, not the new one. Be on the look out for those.
Finally, from the photo at the top you can tell that some very sought after stuff is on sale at the booth. Tyler Stout Star Wars, Olly Moss' Source Code and Moon, etc. These are all posters no one though they could buy anymore and Mondo has them. But not for long.
Exclusives, new announcements and a great selection of things to look at and buy: it won't take long for Comic-Con to realize Mondo has arrived.