TV Trailers: 'Dexter' Season 6 And 'Fringe' Season 4 Teasers, Plus 'The Walking Dead' Season 2 Clip And Poster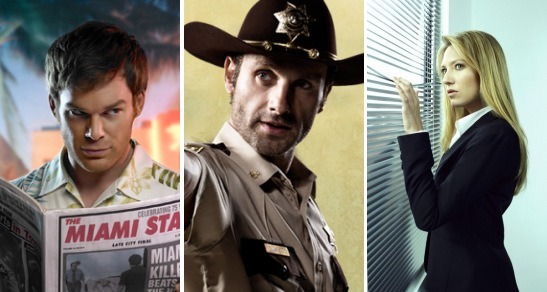 Who's ready for the fall television season? I, for one, am not — I've still got a ton of catching up to do, for one thing, and it means the end of summer, for another — but I suspect I may be alone in this. At any rate, the networks would like to remind you to start preparing yourselves for the upcoming season. We've got great new teasers for the sixth season of Dexter and the fourth season of Fringe, plus a clip and a poster from Season 2 of The Walking Dead, all after the jump.
[via Nerd Bastards]
"After all, I rid the world of evil people. If they didn't exist, neither would I." Well, that's one way of thinking about it.
Season 6 of Dexter will premiere this fall. Here's Showtime's blurb for the upcoming season (spoilers if you haven't seen seasons 1-5):
This season, Dexter goes from happily married husband to guilt-ridden single dad. How will it affect his ability to maintain an average-guy facade while satisfying his need to kill? Dexter Morgan spent Season 5 atoning for the death of his wife Rita. He committed to being a part of her children's lives, and entered into a deep, passionate relationship with Lumen, unlike anything he'd ever had before. But Dexter's need to kill overpowers his desire for human connection. And now that one person knows the truth about him, and a few others are close, how much longer will America's favorite serial killer be able to keep his dark side a secret?
Next, we've got the unsettling first teaser for Fringe. It's only ten seconds long, but it's certainly an interesting ten seconds, and it asks a big, important question: "Where is Peter Bishop?" And oh, look, FOX was even kind enough to drop a hashtag in there to remind us to tweet about it.
[via Cinema Blend]
Fringe will return for its fourth season Friday, September 23 on FOX.
Finally, here's the slightly-less-than-one-minute clip from The Walking Dead, which originally aired during Sunday's Breaking Bad season premiere. It doesn't tell much about the new season's plot arcs, other than that Rick Grimes and zombies will continue to be involved, but I'm sure fans just be happy to see Rick's familiar sweaty face again.
[via Entertainment Weekly]
Zombieland's Columbus would totally approve — Rick taps both zombies at least twice.
Entertainment Weekly also revealed the new season's first poster, which will be unveiled at Comic-Con this week: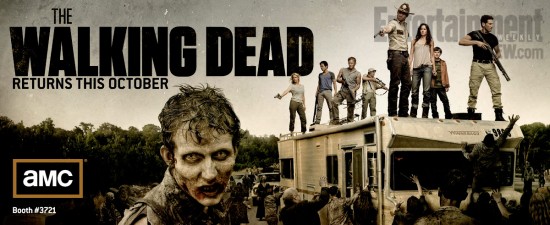 The Walking Dead will return for its second season this October, picking up where the first season finale left off — with Grimes and company heading away from the CDC and toward Hershel's farm.
Discuss: Are you looking forward to the new seasons of these shows? Which other returning shows are you excited for?