Casting Bits: Holt McCallany In 'Gangster Squad', Julia Stiles And America Ferrera In 'It's A Disaster', Dennis Quaid In 'What To Expect', Jennifer Love Hewitt And Ivan Sergei In 'Jewtopia'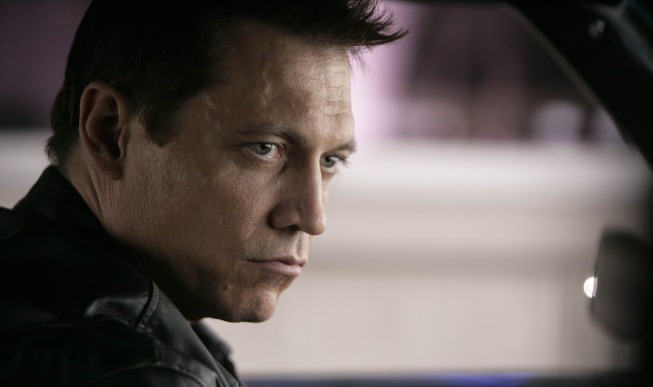 Last season, FX's boxing drama Lights Out entered the canon of brilliant-but-cancelled television series, when piss-poor ratings brought about its demise despite plenty of critical love. Thankfully, things seem to be working out better for the series' acclaimed star, Holt McCallany, than they did for the show.
The actor is now in talks for Gangster Squad, Ruben Fleischer's highly anticipated (well, by us) period cop drama. McCallany would be joining an absolutely top-notch cast which already includes Sean Penn, Ryan Gosling, Josh Brolin, Anthony Mackie, Michael Peña, and Giovanni Ribisi, with Bryan Cranston in negotiations. How can you not get excited with a cast like that?
Based on a series of articles by Paul Lieberman, Gangster Squad tells the story of an LAPD task force which was formed to fight organized crime and corruption in 1940s Los Angeles. Gosling, Brolin, Mackie, and Cranston will be on the LAPD side; Penn will play real-life mob boss Mickey Cohen. McCallany is eyeing the part of Cohen's bodyguard. Production for Gangster Squad will begin September 7. [Variety]
After the jump, Julia Stiles and America Ferrera team up, Dennis Quaid gets a much younger wife, and Jennifer Love Hewitt and Ivan Sergei find love.
We've known for a while that Brooklyn Decker would be starring in What to Expect When You're Expecting, Kirk Jones' ensemble romcom adaptation of the classic pregnancy manual. Now, we know who'll play the man who knocked her up: Dennis Quaid. Quaid will be Ramsey, who gets "hilariously competitive" with his adult son Colin when they learn they are expecting children at about the same time.
Quaid and Decker's co-stars in the film will include Jennifer Lopez, Cameron Diaz, Elizabeth Banks, Chris Rock, Anna Kendrick, Rodrigo Santoro, Chace Crawford, Rob Huebel, Rebel Wilson, Joe Manganiello, Wendi McLendon-Covey, and Matthew Morrison. What to Expect When You're Expecting will begin shooting this summer for a Mother's Day 2012 release. [Lionsgate Publicity]
Jennifer Love Hewitt and Ivan Sergei have signed on for Jewtopia, a cinematic adaptation of the play by Bryan Fogel and Sam Wolfson. Fogel will also serve as director and producer.
The "Wedding Crashers meets My Big Fat Greek Wedding" comedy revolves around two longtime friends, one a gentile plumber who wishes to date Jewish women who will make all his decisions for him and the other a Jewish man who wants to date gentile women to separate himself from his roots. The two agree to help each other with the women each wishes to date.
Sergei will play Christian O'Connell, the gentile half of the pair, who poses as a Jewish doctor in order to woo Jewish women. Hewitt will play his love interest Alison Marks, who meets him during a singles mixer at the temple. Guess Fogel isn't too concerned about Career-O-Matic's statistical assessment of Hewitt as the worst actress of the past 25 years. [Variety]