South Korea's Bae Doona Cast In 'Cloud Atlas'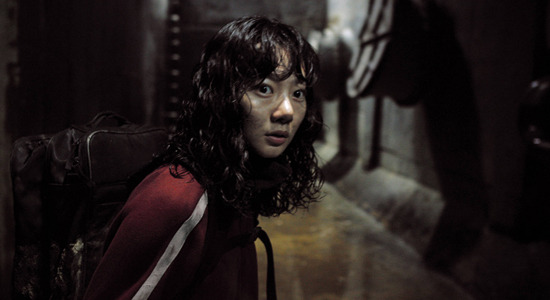 As the Wachowskis and Tom Tykwer have cast up their film adaptation of the David Mitchell novel Cloud Atlas, we've seen quite a few good choices being made. Tom Hanks, Hugo Weaving, Ben Whishaw, Halle Berry, Susan Sarandon and Jim Broadbent are the major players who will embody multiple roles in the six slightly interconnected stories that make up Cloud Atlas.
That seems to account for most of the major characters, with one big exception: Sonmi~451, a clone grown to be a server in a dystopian future version of Korea. Casting a non-Korean actress is out of the question (or should be) but we haven't heard anything until now. Seems that the team has made a good choice, as Bae Doona (Sympathy For Mr. Vengeance, The Host, Air Doll) has been picked to be one of the film's most important characters.
Filmonic (via The Playlist) noticed that South Korean outlet Sports Chosun let on that the actress has the job.
This is the Wiki recap of An Orison of Sonmi~451, aka the fifth story in Cloud Atlas:
Nea So Copros (Korea), dystopian near future. Sonmi~451, a genetically-engineered fabricant (clone) server at Papa Song's diner (a stand-in for McDonald's), is interviewed before her execution after she rebels against the capitalist totalitarian society that created and exploited her kind. The next character watches Sonmi's story projected holographically in an "orison," a futuristic recording device.
Despite the fact that this particular tale is perhaps the most unusual in Cloud Atlas, I found it to be the most affecting. Sonmi~451 is a soulful, self-aware and very compelling character, and perhaps walks the most transformative path of anyone in the aggregate storyline. She's the emotional core of the story, and a bad casting move here could have big ramifications. In this case, the character should be in capable hands.
Cloud Atlas has expanded to be a roughly $150m film — it'll be the biggest production ever mounted in Germany, where the filmmaking trio of the Wachowskis and Tom Tykwer will direct the action later this year. Given that the six stories include a 19th century sea tale, the dystopian Korean story and an island adventure set in a far-flung post-apocalyptic future, every penny of that money will end up on the screen. A fall 2012 release is possible, but not yet set.