Casting Bits, Ensemble Comedy Edition: 'What To Expect When You're Expecting', 'Struck By Lightning', Untitled 'Knocked Up' Spinoff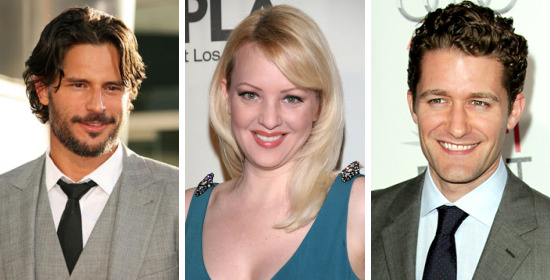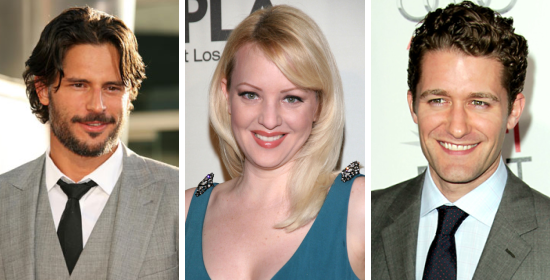 Three more have signed on for What to Expect When You're Expecting, Kirk Jones' adaptation of the classic pregnancy manual. The comedy follows several different couples, Love Actually-style, as each experiences pregnancy and the miracle of childbirth. Bridesmaids actress Wendi McLendon-Covey will play a colleague and friend of Jennifer Lopez' character; True Blood's Joe Manganiello will be a single guy whose carefree, glamorous lifestyle is the envy of all the local dads; and Glee star Matthew Morrison has won the part of Evan, who teams up with Cameron Diaz' character on a celebrity dance show (really) and eventually gets her pregnant.
In addition to the actors named above, What to Expect will also feature Elizabeth Banks, Chris Rock, Brooklyn Decker, Anna Kendrick, Rodrigo Santoro, Chace Crawford, Rob Huebel, and McLendon-Covey's Bridesmaids co-star Rebel Wilson. The film will begin shooting this summer for a Mother's Day 2012 release. [The Playlist, The Hollywood Reporter, Deadline]
More ensemble comedy news after the jump: Robert Smigel and Annie Mumolo board Judd Apatow's Knocked Up spin-off, while Christina Hendricks, Sarah Hyland, and Dermot Mulroney sign up for Struck by Lightning.
Formerly titled This is Forty, the film will center around Paul Rudd and Leslie Mann's married couple from Knocked Up. Mumolo and Smigel will be playing a couple who are close with Rudd and Mann. Albert Brooks, Megan Fox, Ryan Lee, Lena Dunham, Charlene Yi, and Wyatt Russell will also star. The project is currently in production, with a projected release date of June 1, 2012. [The Hollywood Reporter]
Mad Men's Christina Hendricks, Modern Family's Sarah Hyland, and, uh, My Best Friend's Wedding's Dermot Mulroney have signed on for Struck By Lightning, an indie coming-of-age tale penned by and starring overachieving Glee actor Chris Colfer. The new stars' roles have not been revealed at this time.
Directed by Brian Dannelly (Saved!), the film opens with Colfer's character getting struck and killed by a bolt of lightning. Flashbacks then reveal the story of "his misadventures blackmailing classmates into contributing to the literary magazine he's publishing." Allison Janney, Angela Kinsey, Allie Grant, Ashley Rickards, Polly Bergen, Brad Henke, Robbie Amell, and Carter Jenkins are also set to star. Production for the project has already begun, though a release date has yet to be announced. [Digital Spy]