Tom Cruise Confirmed To Play Jack Reacher In 'One Shot'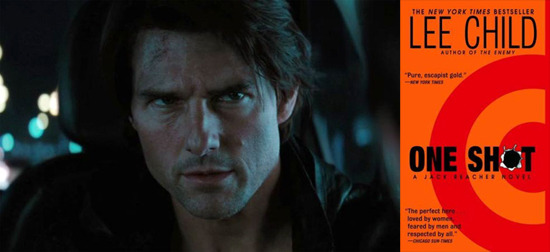 The good news: a film based on one of the great Jack Reacher books by Lee Child is really going to happen, after years and years of development on various titles in the series that will number 16 novels when The Affair is released this fall. The bad news (perhaps): Jack Reacher, written as a six and a half-foot, sandy-haired slab of a man, will definitely be played by Tom Cruise in Christopher McQuarrie's One Shot.
This is a confirmation of word that came down a months ago. Paramount has had Christopher McQuarrie developing One Shot since this time last year; he wrote the latest draft of the script and will direct. And now Cruise, who starred in the McQuarrie-penned Valkyrie, is going to step into Reacher's massive shoes and disposable clothes.
(One of the more idiosyncratic habits of the character, a former star in the military police who wanders the US as a way to connect with his country after living most of his life overseas, is buying and throwing out one set of cheap clothes rather than washing them. This is a guy who doesn't like to be tied down.)
One Shot is a thriller in which a sniper guns down five people seemingly at random downtown in a midwestern city. The gunman is captured and asks the cops to find ex-MP Jack Reacher, who finds that there is a lot more going on than first appears to be the case.
As was obvious last time I covered this casting possibility, I hate the idea. I think Tom Cruise is wrong for the character in many different ways. The physical difference between he and the version of Jack Reacher on the page is something I can dismiss; it's a question of the actor being able to capture and develop the character's quiet capability and confidence. Reacher is a far cry from the brash and brazen Cruise.
But this is happening, so that's the last I'll say about it. Even with the issues in casting I'm excited at the idea of seeing a Reacher project being made top priority at a studio. If the movie is good, that'll be the only important thing in the long run.
One Shot will go before cameras later this year in Pittsburgh, and then Cruise will jump to Joseph Kosinski's Oblivion. The recap of the novel is below. [Deadline]
Six shots. Five dead. One heartland city thrown into a state of terror. But within hours the cops have it solved: a slam-dunk case. Except for one thing. The accused man says: You got the wrong guy. Then he says: Get Reacher for me. And sure enough, ex–military investigator Jack Reacher is coming. He knows this shooter—a trained military sniper who never should have missed a shot. Reacher is certain something is not right—and soon the slam-dunk case explodes.
Now Reacher is teamed with a beautiful young defense lawyer, moving closer to the unseen enemy who is pulling the strings. Reacher knows that no two opponents are created equal. This one has come to the heartland from his own kind of hell. And Reacher knows that the only way to take him down is to match his ruthlessness and cunning—and then beat him shot for shot.