'Friday Night Lights' TV Show Could Continue As A Movie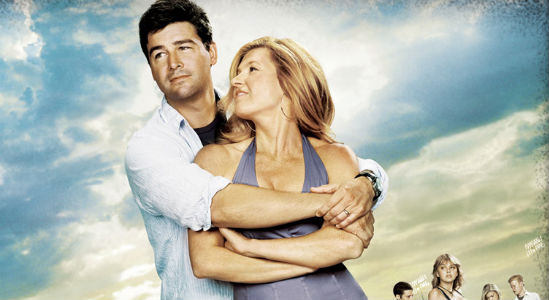 The series finale of Friday Night Lights airs on NBC tonight and as fans of the stunning drama mourn the end of their show, there's now a chance it might live on at the movies. Multiple reports say show executive producer Peter Berg, who directed the original film version of the property, is interested in making a film that continues the story of Eric and Tammy Taylor, played by back to back Emmy nominees Kyle Chandler and Connie Britton. Read more after the break.
Grantland first broke the news when site editor Bill Simmons tweeted the following:
PS: We didn't put it in the oral history, but Peter Berg told us he wants to do an FNL movie with Chandler/Britton off the final episode.
The team at TV Line then did a little research and said that "multiple sources told me it's no pipe dream. Berg, who directed the original feature and shepherded the NBC series with exec producer Jason Katims, is working behind the scenes to make it a reality."
They then point out that the main problem might be red tape. Friday Night Lights was originally a best-selling book before it was adapted to a feature film and then spun off into a TV series. The rights issues alone to untangle that mess to make it a movie again could stop even the best script from making its way to the big screen.
And Universal isn't talking. TV Line contacted them and got the following statement: "We do not currently have a FNL project in development." The key word, of course, being "currently."
So there's hope. Hope that a show NBC gave the runaround to for several seasons before relegating it to DirecTV will finally get the respect it deserves. Hope that, for my money, the best drama on network television during its five season run will be given the ultimate compliment.
And while Friday Night Lights never got the numbers it should have, it had an incredibly devoted fan base – many of which are in Hollywood. Several of the show's stars have since gone on to bigger and better things, be it Taylor Kitsch starring in John Carter, Minka Kelly being a Charlie's Angel, Aimee Teegarden getting offed in Scream 4, etc. And you hope they'd all come back in a second to make that trip to Texas one more time.
Being a huge fan of the show, I think where the series ends up tonight is satisfying and worthwhile. It's a good ending. But I'd always be willing to see what happens next because I love the characters so much. Do you agree?