John McTiernan's 'Shrapnel' Moves Forward, But Likely Without Nicolas Cage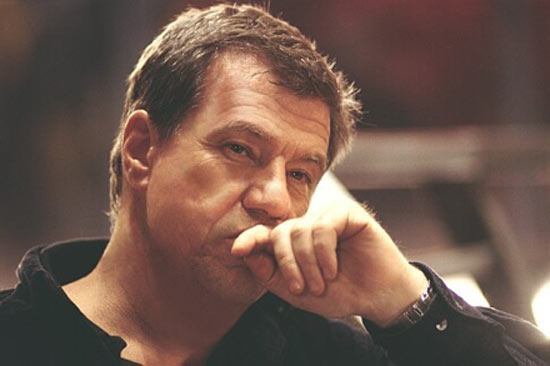 John McTiernan had a killer action movie run in the '80s with Predator, Die Hard and The Hunt For Red October, and the '90s weren't so bad for him either, thanks to Last Action Hero and Die Hard: With a Vengeance. But the 2000s weren't so hot, first because of Rollerball, and then because he was implicated in the 2006 Anthony Pellicano wiretapping and racketeering scandal. McTiernan ultimately perjured himself while testifying about his involvement in the Hollywood private investigator's activities, which led to a one-year prison sentence.
John McTiernan's conviction is waiting to go through the appeal process right now. In the meantime he has been trying to pull together a film called Shrapnel, based on a script by Evan Daugherty (Snow White and the Huntsman) and provisionally starring John Travolta and Nicolas Cage. So that Face/Off reunion is finally going to happen? That's what it was looking like for a while. All those details are things we've known for some time, but now it looks like financing for the movie is finally falling into place. Unfortunately, it might happen without Nic Cage.
The Wrap offers a spotty recap of the general history of John McTiernan's involvement with the Pellicano case and the basics of Shrapnel. Here's the plot:
SHRAPNEL tells the story of two veterans of the Bosnian War, one American, one Serbian, who clash in the remote Rocky Mountain wilderness. FORD is a former American soldier who fought on the front lines in Bosnia. When our story begins, he has retreated to a remote cabin in the woods, trying to escape painful memories of war.
The drama begins when KOVAC, a former Serbian soldier, seeks Ford out, hoping to settle an old score. What follows is a cat-and-mouse game in which Ford and Kovac fght their own personal World War III, with battles both physical and psychological. By the end of the flm, old wounds are opened, suppressed memories are drawn to the surface and long-hidden secrets about both Ford and Kovac are revealed.
The site also says that Belgian financing is starting to come through, from the same company that financed The Devil's Double. When The Wrap's article first ran, it was optimistic that with financing in place, things would move forward quickly.
But two different reps for Nicolas Cage later contacted the site, saying that he is no longer involved in the film. So it won't be a Face/Off reunion after all, and one wonders where that places the project with respect to financing.