'The Pirates! Band Of Misfits' Trailer: Aardman Animation's High-Seas Stop-Motion Adventure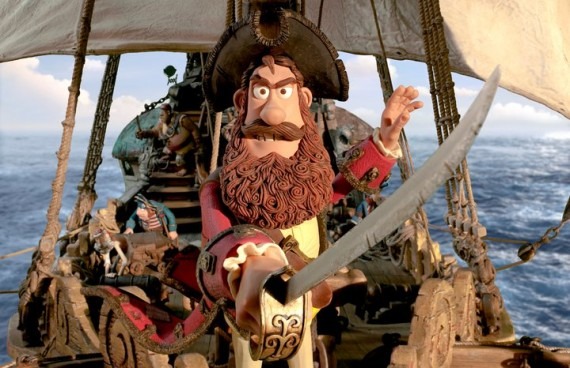 Aardman Animation doesn't just have the CGI holiday film Arthur Christmas to release in the next year. The company also has the stop-motion The Pirates! Band of Misfits, based in part on Gideon Defoe's book The Pirates! In an Adventure With Scientists. The cast was announced not long ago, and is a thing of beauty: Hugh 'News of the World Killer' Grant, Martin Freeman, David Tennant, Imelda Staunton, Jeremy Piven, Salma Hayek, Brian Blessed, Brendan Gleeson, Russell Tovey, and Ashley Jensen.
The trailer for the film hit today, and if you are (a) dissatisfied with the Pirates of the Caribbean sequels, (b) hungry for anything new from Aardman, (c) ready to see a weirdly appropriate use of a Ramones song in a kids' pirate movie, or (d) all of the above, check it out after the break.
Love it. I really don't have any more incisive comment than that. Do we really have to wait until March 30, 2012? Looks like it.
Apple will let you see all the lovely little details in HD.
Hugh Grant, starring in his first animated role, is the luxuriantly bearded Pirate Captain – a boundlessly enthusiastic, if somewhat less-than-successful, terror of the High Seas.  With a rag-tag crew at his side (Martin Freeman, Brendan Gleeson, Russell Tovey, and Ashley Jensen), and seemingly blind to the impossible odds stacked against him, the Captain has one dream: to beat his bitter rivals Black Bellamy (Jeremy Piven) and Cutlass Liz (Salma Hayek) to the much coveted Pirate Of The Year Award.  It's a quest that takes our heroes from the shores of exotic Blood Island to the foggy streets of Victorian London.  Along the way they battle a diabolical queen (Imelda Staunton) and team up with a haplessly smitten young scientist (David Tennant), but never lose sight of what a pirate loves best: adventure!