Steven Spielberg Will Make First Appearance At San Diego Comic-Con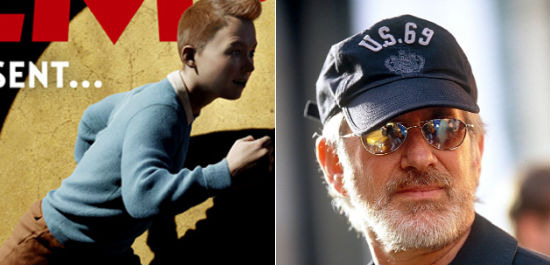 We predicted it, reported it, and now it's official. Yes, world, Steven Spielberg will, indeed be at San Diego Comic-Con. The legendary filmmaker will make his first live appearance at the geek destination next Friday to accept the Inkpot Award and promote his upcoming motion capture 3D film The Adventures of Tintin. Read more after the jump.
The Los Angeles Times got the first confirmation of the appearance, which will happen at 11 a.m. Friday July 22 in Hall H at the San Diego Convention Center.Deadline, however, offers a bit of context as to why Spielberg is choosing now – and not one of his other past movies – to appear in front of the fans. Basically, they say that Paramount isn't exactly sure about The Adventures of Tintin and how the audiences are currently feeling about motion capture and 3D movies. Walking Spielberg into Hall H will certainly get an incredibly massive eruption of applause and jack up the energy in the room so much that he could show the same two trailers we've already seen and the place would most likely go mad. He'll have to show more than that, though, to truly wow us.
Spielberg has been simultaneously finishing Tintin and War Horse while casting Lincoln so it'll be interesting to see if any of that comes into play.
Also, you have to imagine that the Q&A at this session will be one of the most awkward in recent memory. There's no way fans will be able to keep their questions Tintin related and you can be sure all the question asking regulars will be lining up as soon as they get into the Hall to talk to the man behind some of the most beloved movies of all time. Fingers crossed for a super awkward Kingdom of the Crystal Skull question.
Do you think Spielberg showing up in Hall H is a good or bad omen for The Adventures of Tintin?