Another New Photo From 'The Hobbit' Reveals Bofur, Bombur And Bifur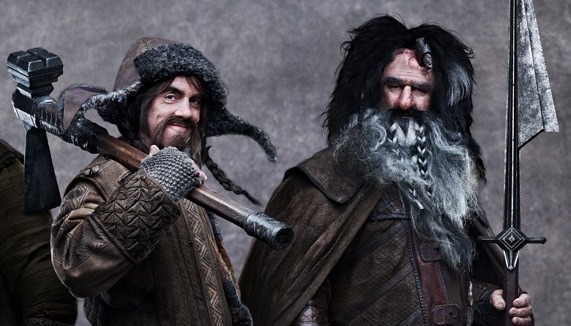 Much in the way that Lionsgate teased out Hunger Games casting for weeks, steadily releasing small pieces of info over time, Warner Bros. seems to be revealing first looks at the characters from The Hobbit bit by little tiny bit. We've already gotten eyefuls of Dori, Nori & Ori, Oin and Gloin, and Fili and Kili. Today comes our first look at the dwarves Bofur, Bombur and Bifur, played by James Nesbitt, Stephen Hunter and William Kircher, as they will appear in Peter Jackson's adaptation of the J.R.R. Tolkien novel. Check out the full photo after the jump.
[via IGN, if you couldn't tell]
From left to right, that's Bombur, Bofur, and Bifur. Here's their character description:
While most of the Company of Thorin Oakensheild is related to the royal and noble line of Durin, Bofur, his brother Bombur and their cousin Bifur most definitely are ... not. Born and bred in the West, descendants of coal miners and iron workers, they have joined the Quest for the Lonely Mountain partly to seek their fortune and partly because they were told the beer was free.
If WB really is releasing these photos one at a time — and so far, that appears to be the case — it's going to be a long summer. In addition to Nesbitt, Hunter, and Kircher, The Hobbit will also feature Martin Freeman, Ian McKellan, Cate Blanchett, Ian Holm, Christopher Lee, Hugo Weaving, Elijah Wood, Andy Serkis, Richard Armitage, Jed Brophy, Adam Brown, John Callen, Stephen Fry, Ryan Gage, Mark Hadlow, Peter Hambleton, Sylvester McCoy, Bret McKenzie, Graham McTavish, Mike Mizrahi, Dean O'Gorman, Lee Pace, Mikael Persbrandt, Conan Stevens, Ken Stott, Jeffrey Thomas, Aidan Turner, Luke Evans, Benedict Cumberbatch, Evangeline Lilly, and Barry Humphries.
Part one of the Hobbit adaptation, titled The Hobbit: An Unexpected Journey, will hit theaters December 14, 2012. Part two, The Hobbit: There and Back Again, will open December 13, 2013.