'Sherlock Holmes: A Game Of Shadows' Trailer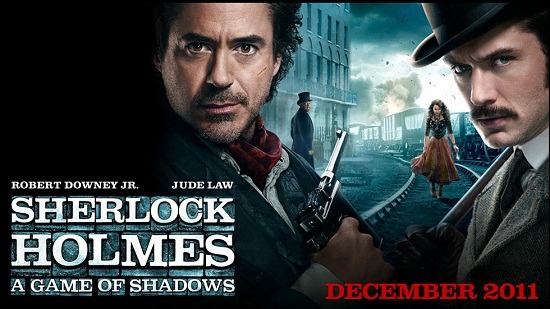 We gave you an early,
at footage from Guy Ritchie's Sherlock Holmes: A Game of Shadows earlier this week, along with two character posters that gave the first look at the fortune teller played by Noomi Rapace (The Girl With the Dragon Tattoo) and the devious arch-fiend Professor Moriarty, played by Jared Harris.
Now you can see the trailer in full, and in great quality, complete with Holmes in drag, speed-ramped fisticuffs and a moment of Holmes and Watson spooning amidst a hail of bullets.
has the trailer in HD.
Sherlock Holmes has always been the smartest man in the room...until now. There is a new criminal mastermind at large–Professor Moriarty (Jared Harris)–and not only is he Holmes' intellectual equal, but his capacity for evil, coupled with a complete lack of conscience, may actually give him an advantage over the renowned detective.
So what do you think? Will A Game of Shadows be a great sequel to the setup film (Like, say, X2 was to X-Men) or will it be more like the Iron Man 2 of detective action adventures?