Check Out Hallmark's 2011 Pop Culture Inspired Ornaments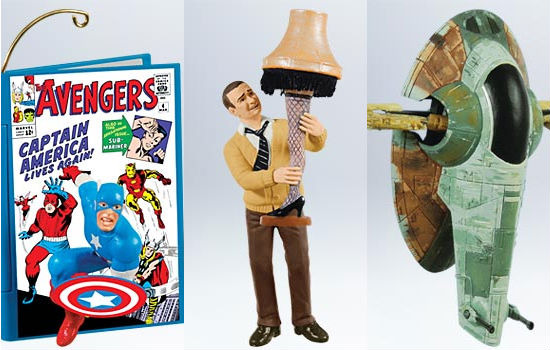 Little known fact: I collect Hallmark Ornaments. It's a very expensive hobby my mother got me into when I was still in elementary school. Every July, she and I would go to the store on the day that Hallmark first released their ornaments for that year and we'd buy all the cool ones. This was a tradition that probably would have faded away as I grew older if Hallmark didn't start making ornaments out of awesome licenses like Star Wars and Star Trek. Now, they're in bed with almost everyone making ornaments of comic book characters, Disney films, TV shows, holiday classics like A Christmas Story and even new movies like The Twilight Saga: Eclipse and Harry Potter and the Deathly Hallows Part 2 in addition to all the traditional stuff too. After the jump, check out a huge gallery of the 2011 Hallmark Keepsake Ornaments that are inspired by pop culture properties.
All these images came from Hallmark's website. They go on sale Saturday July 16 at all Hallmark locations.
Sure many of these might go against the "Christmas Spirit" but there's nothing wrong with spicing up your tree with a little fandom, is there? You can find, and in some cases order, these ornaments on the Hallmark website but know they range from about $15-$40 dollars each depending on their size, weight and capabilities. Yes, I said capabilities. Many of these play music, dialogue, have lights, etc. They're very cool.
Also, if you are interested in these, I suggest picking them up soon. Hallmark Ornament collecting is a big deal in some places and many of the better ones sell out well in advance of Christmas, hence the Christmas in July release.