New 'The Hobbit' Photo: Dwarves Fili And Kili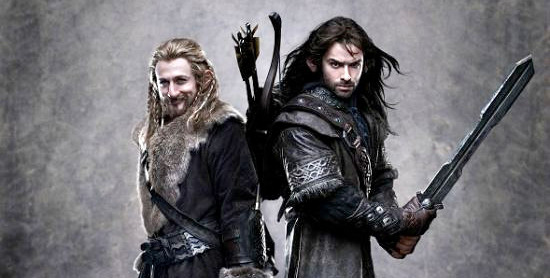 Given that the first of Peter Jackson's two films adapting J.R.R. Tolkien's The Hobbit isn't due out for a year and a half, it is a bit strange to see Warner Bros. milk early character reveals like this. But evidently the studio wants people who aren't familiar with some of the actors playing the story's large company of dwarves to learn their names and faces a few at a time.
So here are the heavy metal dwarves, aka Dean O'Gorman as Fili and Aidan Turner as Kili from The Hobbit: An Unexpected Journey.
First thoughts: My, what big swords you have! Is this a still from a Fates Warning video I never saw in 1989? But, really, I like it. Good to see that not all the dwarven company will be dour guys with giant beards.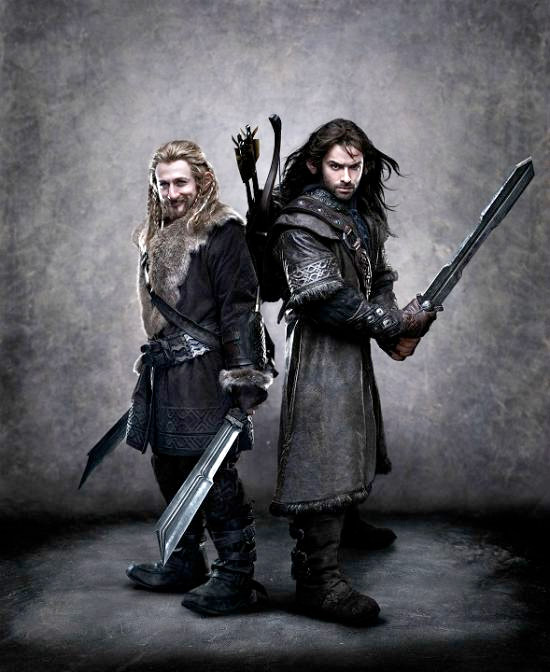 Here's what the MSN post of the photo offers about the characters:
Two of the youngest Dwarves, Fili and Kili have been born into the royal line of Durin and raised under the stern guardianship of their uncle, Thorin Oakensheild. Neither has ever travelled far, nor ever seen the fabled Dwarf City of Erebor. For both, the journey to the Lonely Mountain represents adventure and excitement. Skilled fighters, both brothers set off on their adventure armed with the invincible courage of youth, neither being able to imagine the fate which lies before them.
The Hobbit: An Unexpected Journey arrives on December 14th, 2012. The follow-up, The Hobbit: There and Back Again releases a year later on December 13th, 2013.
The sprawling cast features Martin Freeman, Ian McKellan, Cate Blanchett, Ian Holm, Christopher Lee, Hugo Weaving, Elijah Wood, Andy Serkis, Richard Armitage, Jed Brophy, Adam Brown, John Callen, Stephen Fry, Ryan Gage, Mark Hadlow, Peter Hambleton, Stephen Hunter, William Kircher, Sylvester McCoy, Bret McKenzie, Graham McTavish, Mike Mizrahi, James Nesbitt, Dean O'Gorman, Lee Pace, Mikael Persbrandt, Conan Stevens, Ken Stott, Jeffrey Thomas, Aidan Turner, Luke Evans, Benedict Cumberbatch, Evangeline Lilly, and Barry Humphries. Whew!