Dominic Cooper Joins Peter Dinklage In 'Anvil!' Director's 'My Dinner With Hervé'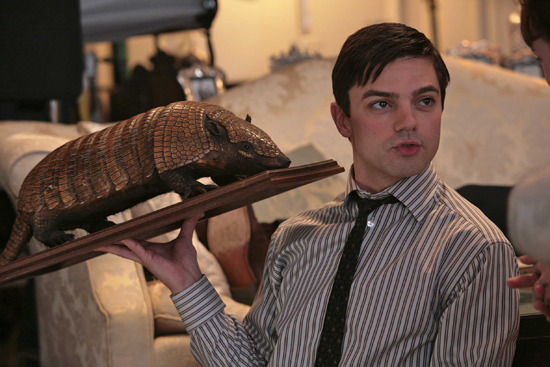 Sacha Gervasi is looking to follow up his hit documentary Anvil! The Story of Anvil with an intriguing sorta-biopic called My Dinner With Hervé. The film will follow the final days of Fantasy Island TV star Hervé Villechaize, based in part on the interviews that Sacha Gervasi actually did with the actor just before his suicide in 1993. So it's an unusual setup — essentially Mr. Gervasi has written and will direct a film in which an actor plays him in a dramatization of the interviews and circumstances that surrounded them.Peter Dinklage has long been set to play the title role in the film, and now it looks like Dominic Cooper is set to play Sacha Gervasi's role.
Sean Macaulay (Daily Beast writer, who also worked on the film's story, via The Playlist) said via Twitter (since deleted) "Visited test shoot for Hervé Villechaize biopic directed by Sacha Gervasi, starring Peter Dinklage & Dominic Cooper. Looks amazing." So there you have it.
This is a great choice, both for the fact that Dominic Cooper is a capable talent and because his rising profile could be a good thing for the film. And he actually looks a bit like Gervasi, in a movie sort of way.
This isn't the only biopic that Sacha Gervasi has on his plate — he's also been attached to a film based on Stephen Rebello's great book Alfred Hitchcock and the Making of Psycho. John McLaughlin wrote the script, which follows the making of the film (obviously) but really focuses on the relationship between Hitch and his wife and filmmaking partner Alma Reville. Anthony Hopkins was in talks to play Hitchcock, but we haven't had an update on the film in a few months.