'Amigo' Trailer: John Sayles Reunites With Chris Cooper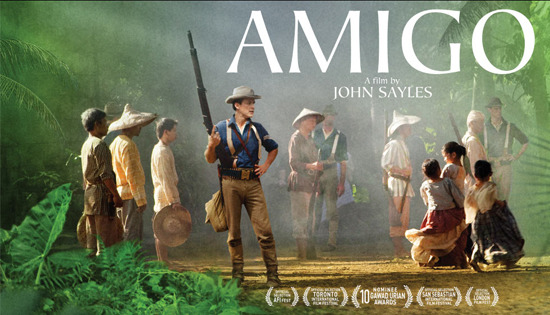 There aren't many directors like John Sayles. The man may have begun his career working for Roger Corman, and he has made a living doing studio rewrite gigs (many uncredited) over the years. But he has also carved out a unique career as a director of films that aren't quite like those made by anyone else.
He had a great run of films from the mid-'80s to the late '90s (Matewan, Eight Men Out, City of Hope, Passion Fish, The Secret of Roan Inish, Lone Star and Men With Guns) and has made several films with the great actor Chris Cooper. Their latest is Amigo, set during the Philippine-American war. The film premiered to mixed reception at TIFF last year, and now you can see the latest trailer below.
Sadly, this trailer is pretty terrilbe — the voiceover is awful, and the way the footage is cut underscores the slightly television-like quality of the imagery. (Is that even really a legit criticism any longer? A lot of television now looks better than movies do.)
Regardless, I've heard enough positive opinions on the film that I'm going to give John Sayles the benefit of the doubt — hopefully Amigo is a bit maverick rather than just cheap.
Check out the trailer in HD at Apple. Here's the synopsis:
AMIGO, the 17th feature film from Academy Award-nominated writer-director John Sayles, stars legendary Filipino actor Joel Torre as Rafael, a village mayor caught in the murderous crossfire of the Philippine-American War. When U.S. troops occupy his village, Rafael comes under pressure from a tough-as-nails officer (Chris Cooper) to help the Americans in their hunt for Filipino guerilla fighters. But Rafael's brother (Ronnie Lazaro) is the head of the local guerillas, and considers anyone who cooperates with the Americans to be a traitor. Rafael quickly finds himself forced to make the impossible, potentially deadly decisions faced by ordinary civilians in an occupied country. A powerful drama of friendship, betrayal, romance and heartbreaking violence, AMIGO is a page torn from the untold history of the Philippines, and a mirror of today's unresolvable conflicts.