Mark Wahlberg And Jonah Hill Teaming For Buddy Action Comedy 'Good Time Gang'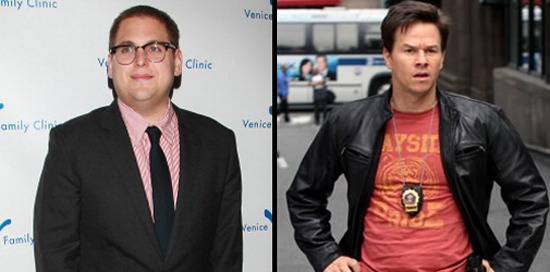 Now that Jonah Hill has seriously slimmed down and is rocking one of the two lead roles in 21 Jump Street, opposite Channing Tatum, it doesn't seem all that strange that he would be set to star opposite Mark Wahlberg in a comedic action buddy picture. Think of him as a younger, shorter Will Ferrell, and Good Time Gang as a less comedic companion piece to The Other Guys.
Good Time Gang, written by Max Landis (who seems to have a script put into development at least once a week) is already earning comparisons to Lethal Weapon, although the description of the two lead roles as "a bumbling pair of antiheroes" doesn't quite conjure up the Murtaugh/Riggs partnership. More details to be found after the break.
The LA Times says Good Time Gang is about "two party-happy mercenaries who decide to take on a more serious case involving a terrorist, only to find their mission complicated when they discover one of them is related to the target." RCR Pictures is reportedly assembling this as an indie, and there is no director at this point.
Before this one and 21 Jump Street are in front of audiences, we'll see the new range of Jonah Hill in The Sitter and Moneyball, opening in August and September, respectively. Mark Wahlberg is finishing up Ted now, and has possible future projects in Broken City, The Silver Linings Playbook and The Fighter 2, none of which are officially greenlit at this point. He probably won't be in Uncharted, though, now that David O. Russell has moved on to The Silver Linings Playbook and a dozen other projects.
(And sssh, no one tell Thomas Jane that producers are making buddy action pictures with two white leads.)