Quentin Tarantino To Act In Western 'The Angel, The Brute And The Wise'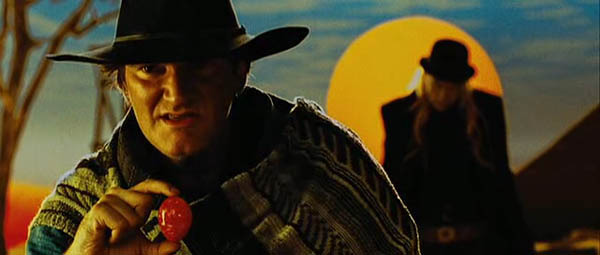 When the news first broke about Quentin Tarantino's new movie, there was some confusion as to the real nature of the project. We first heard the movie was called The Angel, the Brute and the Wise, and that classic spaghetti western star Franco Nero would be involved. That confusion continued when we learned that QT's new film is actually called Django Unchained, as Django is the name of Franco Nero's best-known set of films.
But there is a QT-Franco Nero film, and it is something altogether different from Django Unchained. It is a western, and it is called The Angel, the Brute and the Wise. But the presumed roles of the two men are, in fact, reversed: Franco Nero is directing the movie as an homage to John Huston (no, not John Ford) and Sergio Leone, and he has convinced Quentin Tarantino to play a part.
Franco Nero told Box Office Magazine that he doesn't yet have a role in Django Unchained, despite rumors to the contrary, and went into some detail about his own western:
"I said 'Quentin, we are going to do a western. It would be an homage to Sergio Leone and John Huston, the director that discovered me, and would you be so kind to play a cameo?' And he said, 'Oh yeah! What do I have to do?' I said, actually there are three bandits, and I have to kill them all, and he said, 'oh, great, so I can come with Robert Rodriguez and my friends to play them.' I said, yeah! That would be great! He said, 'But how are you going to kill me?' I said, I'll tell you—with a shotgun, and inside, instead of having bullets, it will be gold coins. He said, 'I love it!'"
Nero has a letter of intent from Quentin Tarantino, which isn't quite a deal, but it does suggest this will really happen (schedules willing) and should help with a little financing for this film, too. Remember, too, that Franco Nero said,
We have already been signed by a dozen people who will be part of project. Among the filmmakers involved include Quentin Tarantino, Keith Carradine, Treat Williams, fifteen people in all. Americans who want to do this movie and so we are trying to produce it outside of Italy.
So we could see quite a few more big names in small parts for the film.
EDIT: Franco Nero may not actually be directing The Angel, the Brute and the Wise. Instead, his capacity may only be as producer.