TV Trailers: 'The Walking Dead' Season 2 And 'Entourage' Season 8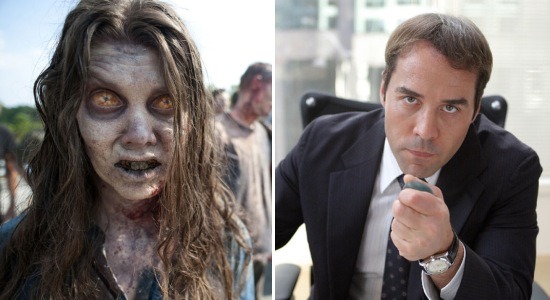 The new television season isn't quite upon us yet, but the networks have definitely started gearing up. HBO's just released an extended trailer for the eighth (and last) season of its escapist Hollywood fantasy Entourage, set to premiere in two weeks.
[UPDATE: Sadly, it turns out that the Walking Dead video posted below is fan-made and not an official teaser. Original story follows.] Over at AMC, the producers behind The Walking Dead have only recently begun casting for its new characters, but a recently released photo and now a brand-new teaser promise that the next season will be just as zombie-tastic as the last. Watch both trailers after the jump.
[via Collider]
The forty-second teaser doesn't tell us a whole lot about what we can expect from the new season, but I suppose it's nice to know that Rick Grimes (played by Andrew Lincoln) is still out there somewhere, killing zombies and being a general badass.
When we last left off with the gang of survivors, they were driving off after a traumatic incident at the CDC. Picking up right where the first season finale left off, Season 2 will see Grimes and company arriving at Hershel's farm, where they will encounter another band of survivors. The 13-episode second season of The Walking Dead will premiere on AMC this fall.
Far more revealing is the new extended trailer for Entourage, which touches upon several big plot points from the upcoming season. We see Vince (Adrien Grenier) return to his friends after a stint in rehab, and the boys celebrate in typical Entourage style — a huge party with every gorgeous, scantily clad girl in Hollywood in attendance.
Meanwhile, Drama's (Kevin Dillon) working on his new show Johnny's Bananas, Ari (Jeremy Piven) deals with his separation from his wife, E's (Kevin Connolly) engagement appears to be breaking down, and Turtle (Jerry Ferrara) looks to carve out his own path. Oh, and it turns out Vince has written a screenplay during his time in rehab and wants to get it made.
[via Today]
Entourage's final season will run only eight episodes, but there's been talk of a feature film follow-up. Recently, Grenier told Wonderwall (via Celebuzz):
As far as I'm concerned it's not a rumor. It's an inevitable thing that is going to happen. I'm absolutely looking forward to doing it.
The eighth and final season of Entourage will premiere on HBO Sunday, July 24.
Discuss: Are you excited for another season of zombie-killing with Officer Rick Grimes? Will you be sad to see Vince and his friends go?