'Restless' Trailer #2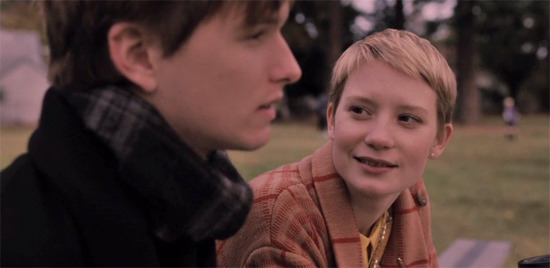 Gus Van Sant made one of the bigger missteps of the '90s with his shot for shot remake of Psycho, but he's been on a roll in the past couple years with Paranoid Park and Milk. His latest film is Restless, starring Mia Wasikowska and Henry Hopper as a pair of kids who are obsessed with death. One of them has a friend who happens to be the ghost of a kamikaze pilot. Reviews out of Cannes were mixed, but it's a film that leads to quite a sweet trailer edit. There is a new, second trailer for the film, which is now scheduled to open limited on September 16. See it after the break.
Harris Savides (The Game, Zodiac, Milk) shot the film, and helps give it a quality that is both grounded and a bit ethereal. That helps when it comes to making a great-looking trailer. Can the movie hold up? I'm looking forward to finding out, especially as the better reviews out of Cannes praised the three lead actors. (Ryo Kase plays the ghost of the Japanese pilot.)
See the HD version at Yahoo.
From Imagine Entertainment comes a powerful and emotional coming of age story, a remarkable film told with honesty and originality that will leave audiences moved. In the film, two outsiders, both shaped by the circumstances that have brought them together, forge a deep and lasting love. Directed by Gus Van Sant, one of the most astute observers of people living life on the edge, comes a take on friendship and young love as engaging and true as it is provocative and stirring. The screenplay is by Jason Lew.