Melissa McCarthy And 'Super 8' Star Ryan Lee Join Judd Apatow's Latest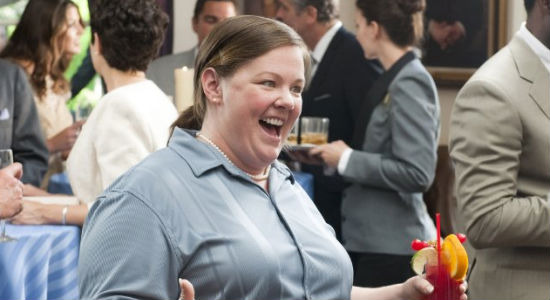 Having previously starred on Gilmore Girls and her own show Mike and Molly, Melissa McCarthy was well-known to TV audiences before her breakout performance in this summer's surprise smash Bridesmaids. Since then she's been mentioned as the possible star of several projects and now she's finally committed to one. She'll appear in Judd Apatow's Untitled 2012 film (rumored to be called This is Forty) that's currently in production. It stars Paul Rudd and Leslie Mann reprising their roles from Knocked Up and, in the film, McCarthy will play a mother at the school where their kids attend. Plus, McCarthy's son will be played by Ryan Lee, who just starred in Super 8 as the pyromaniac Cary. Read more after the jump.
The Hollywood Reporter broke the news of the mother and son casting but weren't sure how substantial either role is. At this point, while McCarthy has the heat to headline her own movie, the role could also just be one of those Apatow scene-stealing cameos. Until we know more about the film, it's all speculation.
What we do know about the film is that it's an unofficial Knocked Up spin off and that Albert Brooks and Megan Fox have reportedly been cast along with Chris O'Dowd (Bridesmaids), Lena Dunham (Tiny Furniture and Apatow's upcoming HBO show Girls), Charlyne Yi (Paper Hearts, Knocked Up) and Wyatt Russell (Cowboys & Aliens). Here's what Apatow said about the film a few months ago:
People were really taken by those characters. I think people really emotionally connected to the challenges of their marriage and I thought, you know, they were only a small portion of the movie. I'm a television writer so I always want another episode. I always want another 80 episodes. That's why after Forgetting Sarah Marshall, we said, 'What else can we do with this character Russell Brand has created here?' I felt that way about Pete and Debbie from Knocked Up.
Apatow's latest is scheduled for release December 21, 2012.